A Guide To Setup And Use Brother MFC-j995dw printer 2023
Brother is a remarkable USA-based company that brings you a wide range of printers. You have the flexibility of affordability with Brother printers inkjet and laser, both. If you're not sure about which Brother printers to buy, you might want to check out the Brother mfc-j995dw review. It will help you get all the relevant information to make the right decision.
Do you own a Brother MFC-j995dw xl but can't use it optimally? Are you having trouble setting it up or using its functions? Well, don't worry! This guide will help you learn how to use any Brother printer. However, we are primarily considering brother mfc j995dw printer for this, as it is the most popular and well-versed choice.
How To Setup The Brother MFC-J995DW Inkvestment?
A Brothers Printer package comes with Ink Cartridges, the setup guide, installation disc, separate power cord, and a maintenance sheet. It is well-protected, so you have to unpack it thoroughly. You get the standard Magenta, Cyan, Yellow and Black cartridges. You can learn more about the package at mfc-j995dw review.
Setting Up Your Printer
For the power supply, your printer would require an AC outlet. The printer has a port for power on the rear. So, connect the power cord there and then to an AC outlet.
Press the power button.

For setup, it might ask you to select the region and language. It is comfortable with the LCD touchscreen.

Make sure to set the correct time and date.

Once you install the cartridge, the printer will go through a quality check process.

After that, you may set the page size for printing.

If you want to use the Fax option, make sure to connect the printer with the correct telephone line.
Wi-Fi Setup For Brother Printer
Setting up a Wi-Fi connection requires you to do it on your system and printer, both.
From the printer's LCD screen, select the Wi-Fi setup option and enable the WLAN setup.

On your computer system, search for a Wi-Fi device for connectivity.

It should be able to find the printer easily.

Then you can select the printer and connect with it.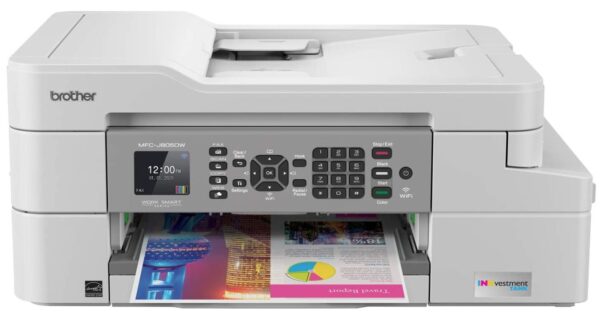 How to Load The Paper?
According to the Brother j995dw review, it has an automatic feeder capacity of 50 pages and a total loading capacity of 250 pages. Make sure to stack the same or less numb of papers and align them properly by using the flat surface before loading it:
You will find a paper tray assembly on the printer. Please remove it

There will be a top cover that you'd have to remove before loading the paper on the tray

You can fix the top cover back as it will firmly place and hold out the paper

Now you can close the paper tray and make sure to pull out the support tray for proper movement of the paper
Remember, it's always better to use less than the maximum capacity of the printer.
A Guide For Cartridges
Always shake each cartridge for around 15 minutes to ensure that it provides optimum performance and mixes well without any freezing. The cartridges would have the assigned slots. However, if you're not sure, it goes Black, Yellow, Cyan, and then Magenta from left to right. Each cartridge uses a push mechanism to set inside the printer easily.
Once the cartridges are inserted, the printer will begin an automated cleaning process. After that, you might have to click on the 'OK' button on the LCD screen. It will enable the printer to give out a test print. It will work as a sheet for quality inspection.
How To Use It With Other Devices?
You would have to download the official Brother iPrint&Scan app that is available on Google Play store. It is known for iOS, as well. After that, you can set up and connect your app with the printer without any problem.
How To Download Latest Driver?
If you've ordered the printer recently, it comes with a setup disc with the latest software and driver for installation. However, if you want to keep your drivers up to date, you may click the direct link https://download.brother.com/welcome/dlf103818/Y18A_C1_ULWT_PP-usa-inst-D1.EXE
However, the link may change so you can visit the official https://brother-mfc-j5845dwxl.com/ to download drivers from there.
How to Change Language After Initial Setup?
If you ever feel like changing your language:
1. Open settings
2. Go to All Settings
3. There, you will find 'Initial Setup' press it
4. Then click on Local Language, and you will have an option to change
Is There A User Manual For MFC-J995DW on Amazon?
For brother printers Amazon doesn't provide any manual. You can visit https://support.brother.com/g/b/manualtop.aspx to download the official manual for any brother's printer without any problem.
Conclusion
Brother mfc-j995dw color all-in-one inkjet printer is a brilliant entry-level printer for multi-purpose use among several brother printers black and white or colored. However, the setup may take some time. We hope that this guide helps make things easier for you. Ensure that you have proper driver and software installed for the printer to work optimally.
About BestCartReviews
BestCartReviews brings you a range of guides and well-researched reviews to help you with a wide variety of tools and equipment. From simple home appliances to complex machinery, you will get the most reliable and comprehensive information on our platform. We have a team of researchers who accumulate the best information to help you learn something new. If you are ever perplexed about a product or how to use it, you can check our extensive database.