Walkin Wheels Dog Wheelchair for Back Legs (Small Dogs) 2023
Dogs are one of the faithful pets and loyal friend of humans. Nowadays, about 45% of the population in a country is having a dog in their home. But just like us, they also suffer from hind legs pain, which makes them unfit to walk appropriately and even cause adverse effects on their health. The reason could be anything like arthritis, paralyzed legs, accidentally fractured legs, muscle fatigue, or any walking jerk, which gradually affects their legs.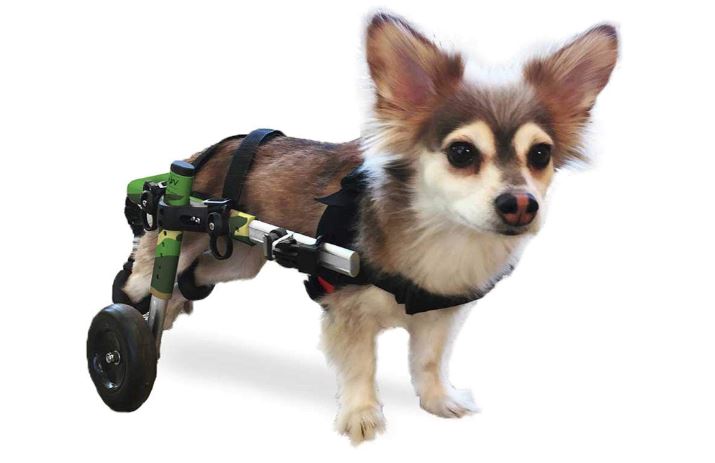 Giving massage and stopping them from walking or running may shorten up their joy and also contribute to discomfort in living. Of course, everyone loves their dog and wants to give the best treatment.
So, What could be the option to make them walk and run in the way they want without hurting their back legs?
The answer to this question is Walkin Wheels Dog Wheelchair for Back Legs.
What is a dog wheelchair for back legs?
Walkin Wheels Dog Wheelchair is like a moveable wheelchair just like a human wheelchair but functionally the same for dogs. It is excellent for making your dog run again regularly. Dog wheelchairs for small dogs provide stability in moving their hind legs and also provide proper support. This kind of wheelchairs is specially designed for the back legs support of the dogs.
A perfect wheelchair must be of lightweight material so that it is easy to move as well as comfortable to put on the dog. When someone is looking forward to purchasing a wheelchair for a small dog or even large one. Then it is ideal to take a look at several features of the wheelchair like adjustable feature, durable material length, height, and comfy straps.
Before you choose the best wheelchair for the back legs of the dog, make sure to gaze at these features first, and make a purchase.
Lightweight material for comfortable mobility:
The lightweight material is more manageable for the pet to carry and move comfortably. Wheelchair frame made up of aluminum is remarkably lighter in weight and highly durable, which seems to be helpful in the mobility of dogs. It is perfect for a dog with no mobility or the dog having limited mobility. The dense foam of wheel is extra durable and lighter in weight with a non-puncturing feature which allows your dog to move swiftly in all-terrain.
Adjustable wheelchair frame for the perfect fit:
The flexible design of a wheelchair making it unique in its own by tailoring the wheelchair according to the size of your dog and according to the health changing condition of dogs. The Walkin wheels dog wheelchair for small dogs is adjustable in height, width, and length to ensure that your dog has comfortable walking and mobility throughout their life.
Easy to clean and store:
In context with lightweight material and adjustable features, the wheelchair is easy to store and clean. Walkin's wheelchair is easy to store and takes less space than a regular wheelchair. This is also easy to clean as well as convenient to store and travel. Additionally, the wheelchair for a dog comes with an easily washable feature, which includes foam wheels and frames so that it makes cleaning easy and comfortably without any trouble.
Veterinarian approved:
As far as the concern of mobility of dog with disabled legs and injured legs, many veterinarians spoke about the positive impact of walkin wheelchair of dogs. These wheelchairs are veterinarian approved. The small dog back leg wheelchair is not only helping them in mobility but also, despite this limitation, it helps keep them and also helps in maintaining their healthy life. It provides support to the hind legs of dogs and helps them in walking quickly.
Comfy straps:
The best feature to look out in the Walkin wheel wheelchair for a dog is these comfy straps. The straps are comfortable and made up of flexible and adjustable material that is easy on the joints and would not give hurdles of keeping on the back of the dog. It keeps wheelchair secure in its position.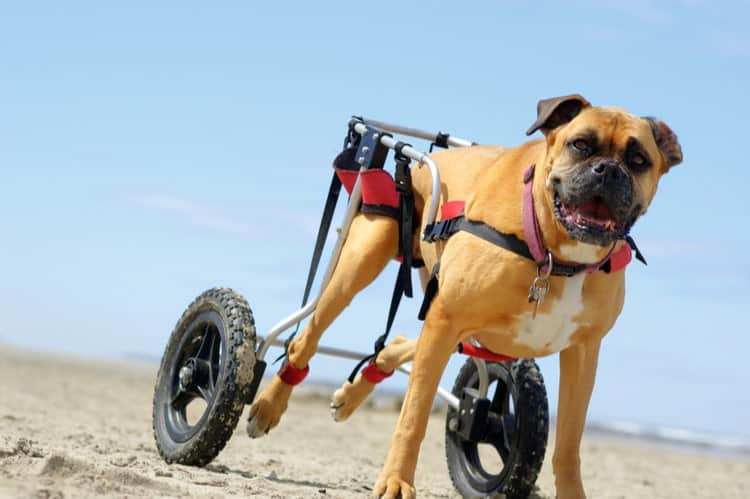 Walkin Dog Wheelchair for Small Dogs
Pros
High-quality wheelchair and value for money
It is highly durable and perfect for keeping them long
The lightweight design makes it comfortable in carrying
It comes in adjustable sizes as well as available for different size dogs
It provides ultimate comfort in walking and perfect for the dogs with disable legs
Cons
Sometimes tricky to understand
FAQs: Dog Wheelchair for Back Legs
What are the sizes available this dog wheelchair?
The size of the dog's wheelchair is according to the weight and height of the dog. However, the adjustable feature of the walkin wheel dog wheelchair for the back leg seems ideal for all size dogs. The wheel size ranges from 4 to 16 base on the small, medium, and big size dogs. You can also check the manual of the product to know the perfect size wheelchair.
How to measure and choose the right size for my dog?
To get the perfect fit wheelchair for dogs, always measure the height of the dog by making them laying down also if you need to have the measurement of the rear legs height than measure it from the part where the leg connects with the upper back leg thigh region to the toe region.
Is this small dog back leg wheelchair veterinarian-approved?
All the walkin wheel small dog back leg wheelchairs are veterinarian approved.
Conclusion
Now, you have read enough about the features of a Walkin Wheelchair for the Back Legs of the Dog. It becomes easier to pick the best wheelchair for your furry friend.
The more exciting thing about the Walkin Wheel Dog Wheelchair is its adjustable features, which makes them perfect for all size dogs.
The lightweight material makes the wheelchair ideal for easy mobility and comfort in moving any terrain. The best part of this wheelchair is that it has comfy straps that securely keep wheelchair on its position.
The puncture-proof wheels make them perfect in handling motion on uneasy roads without any discomfort. Ideally, these are also veterinarian approved, which trigger us to buy these walkin wheelchair for dogs and add another happiness in their disabled life.
Also, Read Relevant Best Product Reviews by BestCartReviews