Arlo has announced the launch of the all-new Arlo Pro 4 camera with one other model. The two cameras are causing quite a buzz and managing to stir up the market. In the light of their release, it's about time we get down to discussing other Arlo cameras that are available in the market.
Whether it's the predecessor Arlo Pro 3 cameras or the competitive Arlo ultra 2, the company is known for providing some of the best cameras. Are you looking to invest in the Arlo cameras system? Then it's about time we bid them against each other.
This list talks explicitly about Arlo Pro 4 and compares it to other cameras to help you find out which one is best to meet your requirement. So without further ado, let's begin!
Arlo Pro 2 2-Camera Indoor/Outdoor Wireless 1080p Security
Arlo Pro 4 Security Camera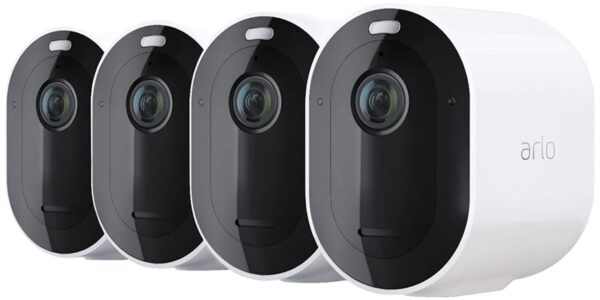 Arlo eliminates your need to have wires for the cameras. It's Pro 4 model has impeccable connectivity that can work with your smartphones. While it doesn't have a voice assistant, it is compatible with Alexa and Google Assistant for your convenience.
You receive the crisp quality of video recording to never miss any details with 2K HDR. To conserve your storage options, it comes compatible with cloud storage for seemingly endless feed recording. Arlo Pro 4 will perform throughout the year, as it has standard weatherproofing.
Its magnetic mount makes it a breeze to install the system within minutes and quick set up to start operating immediately. You have access to customize the motion and sound detection range, and you can customize notifications.
It has a built-in siren which you can decide to activate when it detects any activity. More importantly, the spotlight is very bright and great to flash any intruder. Despite spotlight, it has night-vision with full-colour support for clarity.
Best Features of Arlo Pro 4 Camera:
Excellent Battery Life
Remarkable six-month battery life without any slack. It comes with a magnetic charger to prevent any downtime, and it is compatible with a solar charger.
Impeccable Video Quality
2K Ultra HD camera and colourful night vision with powerful zooming capabilities record sharp details with proper brightness.
Dual Sensor
Motion and a sound sensor for better activity detection and alerts. Customizable range and other smart detections for complete surveillance
True Wireless Connectivity
Connects to home Wi-Fi and doesn't require a base station. Ergo, you can connect it to smart-devices and access all features.
Premium-grade model
Whether you install these Arlo cameras Indoor or outdoor, you have complete weatherproof with a highly-durable body to withstand trials of time.
Verdict:
Overall, it Is a great camera that you can use indoor or outdoor. For your ease, it has a 1-year warranty on parts and performance with commendable customer support of Arlo. However, if you're not ready to invest in high-quality camera at available price, there are other Arlo cameras you can try.
Arlo essential cameras are very identical to Pro 4 model. You get reliance on a powerful battery that works for six months. It is also a wireless camera with Wi-Fi connectivity and cloud storage for your ease. You may use it indoor or outdoor for your convenience.
However, it has a slightly better view, expanding to 180-degrees. It doesn't have a sound sensor but supports two-way audio communication. You still get motion sensor and full-colour night vision with spotlight. It is compatible with your smartphones, Alexa, and Google Home for ease of accessibility.
Siren for the alert is available in the camera. It is highly weatherproof and works year-round without any problem. However, the battery isn't removable, and you get a magnetic charging came to recharge the battery. It is compatible with a solar charger that can be bought separately for lasting performance.
For video feed, you get 1080P high definition recording, full-colour night vision makes it work optimally even in darkest nights. The spotlight can make it easier to ward off the intruders or record during the night. It is relatively easy to install and works within minutes.
Pros:
Extensive battery life and solar charger compatibility

180-degree view angle and full-colour night vision

Integrated spotlight and siren

Compatibility with Alexa, Google Home and smartphones

Motion detector
Cons:
1080P recording at best

The battery isn't removable

No sound sensor
Here you have a complete set for absolute security with Arlo cameras pro 3. With Arlo Smart Hub, you can connect them and receive feed on a single screen. Apart from that, they are still compatible with your Alexa, Google Assistant, and Apple Home kit for comprehensive connectivity. You can even use it with your smartphones without any problem.
This Arlo smart security camera brings you 2K HDR performance to notice every single detail. It has a colourful night vision with 160-degree view for broad recording. Furthermore, you get an integrated spotlight and two-way audio communication. However, the most striking feature is its activity zone setting.
Activity zone allows you to set a specific area for better focus and motion detection. Similarly, you have a package detection to see if there's any parcel on the door. It has extensive six-month battery life and comes with complete weatherproofing to withstand heat, rain, and cold. UV Protected, it has one year warranty.
Alternatively, if you're not sure about the system, you can take a trial of 3 months with 30-day cloud storage access for recording. It connects to the base station via Wifi and doesn't connect to the home network. Similarly, it is a wireless choice for Arlo outdoor security camera.
Pros:
Allows you to select a specific area for motion focus

Package detection to monitor any delivery

Compatible with all smart-home assistants

2K HDR recording, colour night vision and a 160-degree view
Cons:
Requires a base station to connect with Wi-Fi

Requires a base station to simultaneously surveillance with all four cameras
Now here is an accurate wire free security camera system from Arlo if you're looking for a budget-friendly choice. This is an HD Arlo surveillance camera. Hence, it supports 720P video quality. You get 130-degree view angle with equally robust motion sensor. Similar to other models, you get built-in mic and speaker for two-way audio communication.
It comes with cloud storage. However, you can connect it to a hard drive for physical storage, as well. More importantly, it is compatible with Arlo Smart App, which you can use on your smartphone, on any operating system. Similarly, you can use the app on Apple TV and Google Home View for vast monitoring option.
Each camera has night vision. The battery life lasts around 3 to 6 months, depending on your customization. You can charge it with the magnetic charger without any swapping required.  Overall, it is the right choice for you to start with Arlo Pro smart security cameras.
Each set comes with four cameras and batteries. You get a base station with built-in Sire that offers 100 dB power. Ethernet cable, power cable, wall mounts and screw sets are all provided with the set. Apart from four wall mounts, you have one outdoor security wall mount for comprehensive security coverage.
Pros:
Budget-friendly choice

Great battery life

Flexibility to install indoor or outdoor

Standard video feed

Hard drive compatibility

Smartphone app for convenience
Cons:
720P HD Feed might not be enough

Sire is built-in in a base station, not cameras
Arlo cameras pro 2 is a versatile choice that gives you the option to have 100% wire free system. It provides you with 6-month battery life and ease of recharging. Alternatively, to prevent downtime, you can connect it to the solar charger for lasting performance. For real HD recording with sharp details and optimum brightness, you have 1080P HDR.
It is customizable with activity zone settings that allows the motion detector to focus on a specific location. However, it is better as Arlo cameras indoor surveillance. It supports and records audio with video and has a rewindable capacity to look 3 seconds before any event is triggered.
You get universal compatibility to work with Alexa, Echo, Fire TV, Google Assistant, Apple TV and other connections. It works best with Amazon Alexa. Even Samsung SmartThings works with it. Pro 2 has a remarkable 300+ feet for a line of sight. What makes it worth adding to the list?
In the world of smart security cameras, Arlo Smart brings you the leisure of complete customization. You can set the detect zone, smart access notification through your device and immediately connect to emergency responders. These qualities alone put Pro 2 leagues above many other security cameras. It has Wi-Fi connectivity to be Arlo cameras wireless and option to use local or cloud storage.
Pros:
300+ Feet line of sight

Universal compatibility with other devices

Two-way audio, motion detection and audio recording

3-second rewind for event alert

Connectivity to emergency responders
Cons:
Night vision is not great

130-degree view angle is a little less than others on the list
If you're looking to add more cameras to your base station, then this is the right choice. Remember, this is an Arlo smart home camera to add to a pre-existing security system, not a stand-alone performer. However, it works very well with Alexa and supports voice command control.
If we conduct an Arlo cameras comparison, then this also has 100% wire-free design and ease of installation virtually anywhere. It has motion detection that sends alerts and supports cloud storage. You get a full night vision performance. This add-on camera has standard weather-resistance to be an excellent indoor or outdoor choice.
It is compatible with Arlo Smart so that you can use this add-on camera with smartphone and other smart devices. Furthermore, you get full-fledged customization option Arlo cameras are popular for. It requires Wi-Fi connectivity to Base station to provide feed.
On the negative side, it doesn't have any form of audio support. So you don't get two-way audio or audio-recording for video. It records when motion is detected, which is great for battery, but not if you want 24/7 recording. You get 110-degree standard view angle, and as it claims to be HD recording, you get 720P quality.
Pros:
A cost-effective way to increase surveillance

Smart App compatibility

Standard Arlo camera performance

HD video quality and night vision
Cons:
Motion detector only works 5-20 feet away from the camera

110-degree view angle

Requires base station to work

Doesn't have audio support
Here is a choice for you if you don't mind the bucks to invest in an Arlo cameras system. These are Arlo ultra 4k cameras, which means that they deliver 4K Ultra HD quality. Furthermore, you get 180-degree of widest view angle with impeccable motion support. It comes with two-way audio and an integrated siren system that makes it stand out from other cameras on the list.
Enhanced night vision ensures remarkable quality and recording even in dim light. Integrated spotlight eliminates the requirement for extra lights. These cameras have the best range and come with a locking mechanism for reinforced protection. In other words, you need a key to lock and remove the camera from the mounts.
You have complete access to features such as emergency connection and response. It comes with object detection or motion area settings. You can connect it with any smart-home device or a smartphone without any decline in the performance. It offers up to 12x zoom to never miss any details.
Does it get any better? Yes! You get the option of 3 months trial and cloud storage access. It has a compact design and ease to install. Furthermore, you get strong weatherproofing to work even in the rain or intense sunlight without affecting the quality. It is compatible with a wide range of Arlo accessories.
Pros:
4K Ultra HD video feed and recording

Universal smart-device compatibility

Universal Arlo compatibility with accessories and smart apps

Wi-Fi connectivity

12x powerful zoom, enhanced motion detection, crisp night vision and 180-degree view angle
Cons:
More on the pricey side of the spectrum
What's New in the Arlo Pro 4
This Arlo cameras review poses a question that if there are so many brilliant selections, what makes Arlo Pro 4 such a compelling choice? Here are some of the reasons to consider Arlo Pro 4:
It has enhanced motion detection and sound detection range, better than other Arlo Pro cameras in the price range. Even better than Arlo pro2 4 cameras.

Night vision is crystal clear with almost 100 ft line of sight

It doesn't require the base station to work, unlike other Arlo 3 camera or Arlo 3 camera kit.
You can use these Arlo cameras outdoor and indoor with easy mounting and installation

You get 2K HD recording, 2-way audio, individual siren and a feature-full camera

It has excellent smart-device connectivity that you can even use it with smartwatches.
It's true that most of the Arlo cameras look similar and have very identical specifications. However, there are subtle differences that make a huge difference. In Arlo's pro series, you have a well-versed camera. If you are looking for ease of connectivity and great support for surveillance, then Arlo Pro 4 could make a significant difference.
While there isn't a base station support yet, Arlo always releases it after 4-5 months of releasing their latest models. So if you seek that, you can get it later.
Best Arlo Security Cameras FAQs
How Many Arlo Cameras Can I Add?
It depends on your base station. You can have an Arlo 2 camera kit to Arlo pro2 4 cameras set. Some even offer up to 6 camera support. For best security and crisp quality, it would be best if you get a minimum of Arlo ultra 4 cameras set integrated.
Does Arlo Cameras Have Sound?
If you mean sound support, then except add-on cameras, almost all Arlo cameras have sound support. However, if you mean whether they have audio support, then it depends on the model. Models or recording doesn't create any sound individually. You need siren or two-way audio for Arlo cameras to make a sound.
Are Arlo Cameras Compatible With Alexa?
Yes. Arlo cameras are compatible with Alexa, Google Assistant, Apple TV and much more. The latest Arlo Pro 4 is compatible with smartwatches. Alexa is one of the most-compatible smart home system. However, for some cameras, you might have a restricted Alexa support through Echo.
Do Arlo Cameras Have Audio?
Most of the primary products have audio support. Two-way audio is apparent in most of the latest models. However, if you go for an add-on model to have Arlo 2 cameras, you might not get audio support. So make sure to check for audio recording and two-way audio support
Are Arlo Cameras Weatherproof?
Yes, Arlo cameras come with rain, heat and cold resistance. Almost every model is sun-protected for long-lasting performance. The video quality doesn't get affected by external weather conditions. These qualities make it a great outdoor camera, compared to the NetGear outdoor wireless security camera.
Conclusion
Arlo is known for providing qualitative cameras at highly affordable rates. Their pro and ultra series are two different units with key differences between quality and compatibility. If you were perplexed about which Arlo cameras to choose, this review should help you with the decision.
The article is intended to bring you comparison between different Arlo cameras available in the market. From budget-friendly options to premium-grade investment, you have a comprehensive review. We have provided answer to some of the commonly asked questions.
About BestCartReviews
BestCartReviews stays up to date with the latest products in the market to bring you latest information. We aim to help you get the right knowledge about each product. Stay connected with us and we will deliver well-researched content, whether you seek to get informed or make a buying decision.
We cover different industries and market from technology to tools and devices that may be handy. It's not just Arlo Cameras Reviews. For authentic and latest product information, you can rely upon our expertise.