Enjoy Delightful Dishes without compromising your life with the proper controls and settings
Are you a food aficionado looking for that perfectly cooked meal? The flavorful taste, apt moisture, correct softness, and juiciness of the dishes is something otherworldly. Sous Vide, also known as precision cookers, might be the best way for you to achieve that result.
If you're looking for the best precision cookers, we've decided to narrow down the list for you. There are countless options available in the market. It can be daunting, or even perplexing, to shuffle through them to find the right one.
However, we have attempted to curate a list that might suit everyone's requirements. Additionally, you will find some questions and a buyer's guide to help you make that right choice!
Comparison Table – Differences Between the Sous Vide Machines
Before we begin, if you're in a rush and not in the mood to read an entire review, here is a quick comparison table to help you. It compares some of the vital aspects and qualities you would need in a precision cooker.
| | | | | | |
| --- | --- | --- | --- | --- | --- |
| Product | Working Capacity  | Compatibility  | Heating Power  | Flow Rate | Connectivity |
| Anova Culinary Sous Vide Precision Cooker | Up to 3,000 hours continuously | Home Kitchen Pots & Utensils | 750 Watts | 5 liters per minute | Bluetooth |
| Vesta Sous Vide | 72 Hours | Standard to large utensils | 1,200 Watts | 10 liters per minute | Wi-Fi App Control |
| Inkbird Wifi Sous Vide | 99 Hours and 59 Minutes | Kitchen utensils and pots | 1,000 Watts | Water circulation pump | Wi-Fi Controls |
| Instant Pot Accu Slim Sous Vide | 72 Hours | In-home use only | 800 Watts | 5 liters per minute | Manual Controls |
| Breville CS 20001 Joule Sous Vide | 72 Hours | In-home use | 1,100 Watts | 10 liters per minute | Wifi, Bluetooth, Alexa |
| Anova Precision Cooker Pro | 10,000 Hours | For professional and home use | 1,200 Watts | 12 Liters Per minute | Wifi |
List of Best Sous Vide Power Precision Cooker Reviews 2023
Without further ado, let's begin the list of the best precision cookers: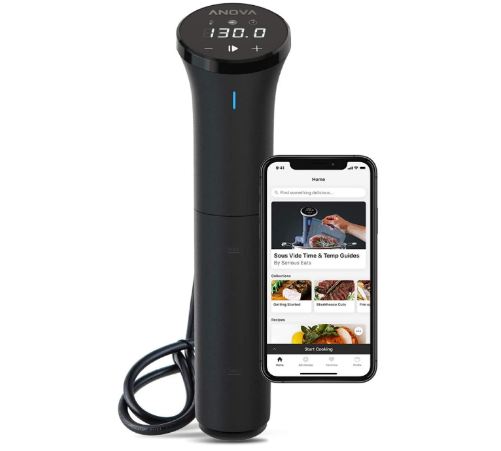 Capacity: Kitchen Utensils Like Pots
Wattage: 750 W
Dimension: 4.1 x 2.2 x 12.8 inches
Weight: 2.72 pounds
Connectivity: Bluetooth
Anova precision cooker is known for bringing impeccable accuracy every time you need to cook something. Regardless of what's on your menu, you will always have delightful meals. It comes with a compatible Anova app that has several recipes for cooking sous vide meals. With Bluetooth connectivity, you can conveniently monitor your meals from a distance while you work or entertain yourself.
It is excellent for cooking any kind of meal without losing flavor or moisture. You won't add any water, either. Thus, if you love the right taste with accurate texture, this is the tool for you. The nano design is more compact and sleek to fit anywhere conveniently. You can store it anywhere without compromising the space.
More importantly, with the exceptional 750 watts of power, it can cook almost anything and in larger quantities. For example, you can cook a meal for four quickly. It is also highly compatible with different cooking utensils. You can use it with any pot, even those that are plastic but high heat-resistant. The entire body is plastic and easy to clean or maintain.
Therefore, if you're looking for a high value for money, Anova sous vide precision cooker might be one of the best options. It is plug-and-play, easy to use with sealed bags, and comes with built-in controls. There is frequently an option to buy sous vide with a vacuum sealer or packs to make cooking more convenient.
Pros of Anova sous vide:
Great for cooking any kind of sous vide dish.

It comes with an App that is full of recipes from professional chefs worldwide.

Compatible with various cooking utensils.

Easy to clean, compatible with storing.

High power of 750 watts suffices for any cooking.
Cons of Anova sous vide:
You can't control the depth or increase and decrease the size for different containers.

A bigger version might be more suitable for cooking in volumes.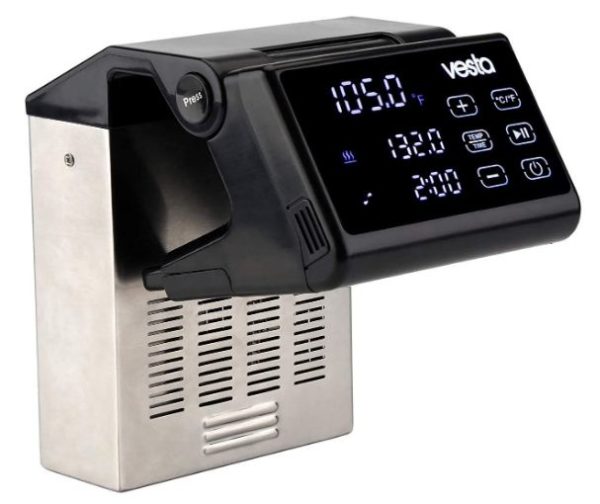 Capacity: 30 Liters
Wattage: 1,200 W
Dimension: 9.53 x 8.82 x 7.01 inches
Weight: 4.62 pounds
Connectivity: Wi-Fi App Control
Here are sous vide that don't follow the conventional design most are known for. This one has a robust pump that can bring a power-packed performance for up to 30 liters of water. While enhancing the power, there isn't any compromise to the accuracy or 'precision' of the cooker. These remain intact.
It looks a little bulkier and more like a box, but it does come with a touch display that enables you to set time, temperature, and other options quickly. The touch screen is distanced from the steam to prevent any damage, as well. This model comes with wifi-enabled app control.
In other words, you need a smart device, any smart device, to download the Vesta app and connect with the device. Still, it adds higher convenience as you can conveniently monitor or control the precision cooker without any restriction. The foldable design also makes it possible to turn any pot or container into an over. Its flip-display design is a minimum innovation that brings maximum convenience.
Often, it is challenging to place precision cookers optimally in different containers. But now, with a larger display and a lower profile for vertical placement, you can use it almost anywhere, with any utensil. It comes with a rating of IP68 European certification and IPX7 submersible requirements. Thus, you get maximum protection with the lowest risk.
Finally, with 30 liters of capacity and 1,200 watts of power, it is a top-notch selection on the list. If you're someone who wants powerful and premium sous vide, this might just fit the bill.
Pros of Sous Vide Precision Cooker:
Highly innovative design and a flip and foldable design make it convenient to use.

IPX7 and IP68 proofing make it dustproof, waterproof, and weatherproof.

High-grade material and even more exceptional performance.

Innovative touch controls and in-app controls for ease of access and settings.
Cons of Sous Vide Precision Cooker:
It has a little bulkier and less attractive design, which makes it complicated to use or store.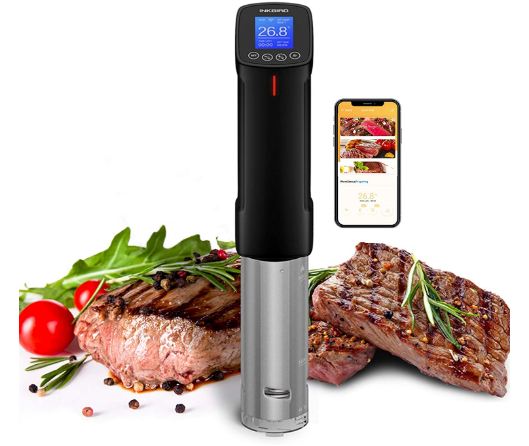 Capacity: Standard Kitchen Utensils
Wattage: 1,000 W
Dimension: 17.56 x 4.96 x 4.06 inches
Weight: 3.32 pounds
Connectivity: Wi-Fi App
The last two options might seem on the two different ends. Anova sous vide brought you low-powered but great for home use, while Vesta appears over the top in power. Here you have a 1,000-watt powered precision cooker that comes with high-speed heating with. It has a temperature range of around 25 to 99 degrees celsius, sufficient for most cooking.
It has a timer range of up to 99 hours and 59 minutes. You can use the app for most of the settings, accuracy, and notifications. There are different cooking styles available, and you can conveniently make these settings to suit the meal without any fear of under or overcooking the meal. If you fear that the temperature might be off, you can readily calibrate the temperature around -10F to +10F for optimum accuracy.
While other sous vide might make a lot of noise, this one doesn't make any noise at all. It comes with the signature thermal immersion circulator that makes it noiseless and won't disturb you if you're working. Unlike many other sous vide, it comes with a protective feature and temperature alarm. If the water level drops too much, less than the minimum requirement, the device will stop working.
It will also ring the alarm if it reaches the settings you've set up. The construction is also stainless steel, which makes it highly durable and easy to clean. Sure, on the drawbacks, it is not entirely waterproof, but it doesn't need to be, for there are optimum protective features in the device. This precision cooker is more ideal for low-temperature or barbeque-type cooking for the dishes.
Apart from the app, it comes with a one-handed operation, making it more convenient to use. The app has free recipes, and the device comes with a 12 month warranty.
Pros:
Great for low temperature and barbeque cooking.

In-app controls, alarm settings, and protective features.

Twelve months of extensive warranty.
Cons:
It isn't waterproof, unlike many others on the list.
Capacity: Household Cooking Utensils
Wattage: 800 W
Dimension: 2.55 x 4.6 x 12.9 inches
Weight: 1.65 pounds
Connectivity: Manual Controls
Here is a budget-friendly option for you from ACCU slim. This one is less powerful, at 800 watts, but that's still enough to enable you to cook almost anything in-house. For all your gourmet cooking essentials, this is one of the best options available. The consistency in the devices makes it entirely accurate.
It can perform for as long as 10 minutes to 72 hours non-stop without faltering. The working temperatures are 40 degrees Celsius to 90 degrees. This is optimum for meeting the majority of sous vide cooking requirements. It comes with an easy-to-read display and touch controls.
The digital controls make it effortless to operate. It has a stainless steel body with a rubber coating to ensure you get a firm grip and a lightweight device. Furthermore, this lightweight brilliance comes with an active pump system. Thus, it will circulate the water and ensure that no segment remains cool or less than optimum.
It has the design of the basic clamps to ensure 6 to 8 quarts of the inner pot or instant pot. This would suit most cooking depths. It is easy to clean with wash and dry. Overall, if you want to get a taste of sous vide without investing extensively, it is among the best choices on the list.
Pros:
A budget-friendly choice on the list.

Comes with an active pump system for uniform heating.

Works from 10 minutes to 72 hours.

An excellent choice for occasional sous vide cooking or for those who are new to the field.
Cons:
Doesn't have any extra connectivity option.

For the budget, it is a basic precision cooker with no additional features.
Capacity: 40 Liters
Wattage: 1,100 W
Dimension: 11 x 1.85 x 1.85 inches
Weight: 1.28 pounds
Connectivity: Wi-Fi And Bluetooth
Do you look at the app recipes and wish your food could look as good as it seems in the app? Well, this sous vide comes with visual donnes to ensure your food will look exactly as it shows in the app. This being said, it is one of the premium-end options available on the list.
The 11-inch tall brilliance is lightweight at 1.1 pounds. It has a sleek finish and a vibrant white body that makes it look smooth. If you compare it, then the machine is at least half size smaller than many other options available in the market. And for the small size, it certainly packs a punch at 1,100 watts that deliver fast heating and the capacity to heat up to 40 liters of water.
It can work with any smart device as it has Bluetooth and Wifi connectivity, both. This is something significant if you see other sous vides that have one or the other at best. Wifi connectivity allows you to cook from anywhere. It even comes with various warnings and protections to ensure it won't end up getting damaged.
More importantly, it even works with an intelligent assistant. That's right! You can connect it with Amazon Alexa for voice controls. It is highly accurate, but instead of the conventional clamp design for holding, it comes with a magnetic base. So that is a drawback as you can't use it on utensils that won't have a magnetic affinity.
If you can overlook that drawback, it is one of the most powerful, compact selections on the list. With several ease of controls and brilliant features, it is among the must-haves on the list. Of course, it will cost slightly more than conventional sous vide, but it could be worth it.
Pros:
Compact, sleek, premium-finish, and power-packed at 1,100 watts.

Wifi and Bluetooth connectivity with in-app functions.

It will give you a visual representation of how the food will look.

Alexa-enabled smart home controls.
Cons:
The magnetic base is less than ideal for non-magnetic utensils.
Capacity: 50 Liters
Wattage: 1,200 W
Dimension: 13.8 x 3.5 x 2.4 inches
Weight: 3 pounds
Connectivity: Wi-Fi And App
Anova sous vide precision cooker remains top-of-the-game. You will come across several of these selections. The nano given at the first position on the list might not have made an impression, but we were saving the best for the last. Think of this as Anova sous vide precision cooker kit. That's right! It is a complete kit that is suitable for even the most taxing cooking endeavors and professional utilities.
Anova precision cooker pro has the highest accuracy and would circulate the temperature exactly as you need. It comes with the signature app for you with countless recipes from professionals. You can use it for any kind of food, but more importantly, it is highly durable. It is a little bigger than others on the list, but the durability and power-packed performance of 1,200 watts make up for it.
While it has an average rating of 50 liters, it can even heat 100 liters of water if you cover it adequately, and that's saying something. It has a stainless steel body and comes with several certifications. The device is drop-tested and has an IPX7 rating. Thus, it is waterproof and shockproof, not to break anytime soon.
The sous vide is easy to use as you can attach it to any container. You can use the app or use built-in controls for cooking manually. If you're a professional and looking for a reliable companion, your search ends with Anova culinary sous vide pro. It is not just a precision cooker. It is an anova oven for underwater cooking.
Pros:
Great for professional use as it is long-lasting and durable.

Stainless steel construct, IPX7 rating, drop tested.

It can heat up to 100L water, making it great for high-volume cooking.

Very precise in temperature.

Comes with built-in apps and manual controls for your preference.
Cons:
It costs significantly more than any other sous vide that you can get on the list.
Buyers Guide For The Best Precision Cookers
On the surface, a precision cooker or sous vide might look quite a straightforward choice. It doesn't seem to have much going for it. However, when investing your hard-earned money, you deserve to get a high value for money. Hence, these are some of the factors you should contemplate before buying any precision cooker for any purpose:
Use Of The Precision Cooker
The first consideration should be the use. When you think about the 'use' or 'application,' think about the time it will take. How long do you plan on using the precision cooker each day? Is it for occasional meals or regular preparations? Once you understand this requirement, you would know which aspect to focus on.
Occasional precision cookers might not require a robust design, but regular ones need high-performing brilliance with premium-grade material. How long do you want it to take to cook the food? That's another question to consider. 
Heating Power
The precision cooker is about enriching the flavor, texture, and other qualities of your food. Heating power will play a prominent role as it will control the speed of cooking and other aspects. Some exquisite food choices might require higher temperature or heating power. Correlatively, heating power will also determine the quantity you can cook at a time.
It will measure in 'wattage,' and the higher wattage means more heating. More heating is suitable for cooking faster by heating water faster. However, if you want to cook for extensive hours, like 8+ hours, you might want to consider lower-powered sous vide.
Temperature Accuracy And Limits
Different dishes will require you to set a specific temperature for optimum cooking results. These can vary drastically, and you would need something that could help you set the temperature. Most dishes would end with the requirements of 100 degrees celsius at max and 50 degrees Celsius minimum.
Consequently, it could be a great idea to research the kind of food you will prepare. Accuracy for temperature makes all the difference, as well. You would need highly accurate precision cookers. Anything even a degree off in reading could ruin the delight of the dish.
Convenient Design
There isn't much you can expect in terms of design as precision cookers require the base to heat water. However, you can consider the grip and material of the grip. You can also look at the quality of the material for the construction of the cookers. But these are all primarily borderline and not as relevant as the clamp design.
You might want to look for clamps or something similar if you want them to hold onto your pot while cooking. It will prevent them from immersing deeper into the pot if you have deeper pots or something. Correlate the design with the utensils you own.
Notifications Or Alarms
Precision cookers take time to cook, and there's no way you can stick around for hours. If you're a working professional, decided to play a game, or binge-watch a series while food is cooking, you might want an alarm.
Similarly, notifications for built-in mobile apps would be a great choice if you don't pay attention to alarms too much. Sure, you can replace these with in-device (mobile) alarms and such. However, it is still a convenient option.
Some sous vide come with a timer to ensure you won't end up overcooking the meal. It could be worthwhile looking into.
Connectivity Options
The connectivity of a precision cooker has everything to do with ease of use. Bluetooth and Wifi options can enable you to have a 'remote control for the precision cooker. This will reduce the chances of errors or overcook. The app connectivity is quite convenient and has become a requirement for modern houses.
Almost every precision cooker in the list has some form of connectivity option. Manuals are good if you want to cut down the cost and don't mind spending hours cooking. The Connectivity option will strongly rely on your preference.
Controls And Features
This is a mix and match of various aspects. For instance, LED screens with proper indications could fall into features. It will enable you to keep track. Timer and other features are also great. Correlatively, ease of use should be pivotal. Whether you're a professional chef or not doesn't matter. What matters is that anyone, even a rookie, should have an easy time setting a precision cooker and using it.
Make sure that the design, features, and controls are according to your requirements. Don't settle for less. There are countless options in the market for you, even for the ones we have added to the list.
FAQs on Sous Vide Power Precision Cooker Reviews
What Is A Precision Cooker?
A precision cooker is a gadget you use for performing sous vide techniques. It allows you to cook the food more optimally. The French word 'Sous Vide' means 'Under Water.' Thus, it is underwater cooking. You leave the food for hours in the water that heats up and gradually cooks food.
What Are The Benefits Of Using A Precision Cooker?
A precision cooker's primary benefit is that it gives you accuracy. You can set precisely the kind of temperature you need for cooking a specific meal.
Other benefits include:
A) Cooking a healthier meal with less oil.
B) Saving time, energy and enhancing efficiency.
C) Eliminates any rigorous process for the conventional sous-vide method.
What Can You Cook With A Precision Cooker?
You can cook almost anything by using a precision cooker. There isn't any limit. You can use it for meat, mutton, chicken, salmon, even vegetables. You might have to follow a specific method for each dish, but it is overall a versatile cooking utensil. Apart from consuming time, it doesn't have any drawbacks.
How To Use A Precision Cooker?
You need to follow the conventional method. First, prepare the meal through ingredients and such. Then seal the food inside a plastic bag and ensure that it won't leak. Then put it in the pot or other utensil. Submerge it in water and then use the precision cooker with set temperature in the utensil. All you have to do now is wait.
Is A Precision Cooker Worth It?
A precision cooker can save you a lot of space. It replicates the food texture and flavors that you will mostly find in high-end restaurants. If you ever wondered about what made their process unique, a precision cooker is an answer. So, if you're a food lover, it might very well be a worth-it investment.
Is Precision Cooker Good For Healthy Food And Meals?
Yes. You can make a lot of healthy and less-oily food. Many fitness enthusiasts prefer this method for overnight cooking their chicken and other meals. It doesn't compromise any nutrients and gives the benefits of the boiled food without impacting the taste.
Are Precision Cookers And Heating Rods The Same?
No. Heating rods might not be as advanced, and they have a specific ability to work for the water. Precision cookers have a lot of additional controls and features that make them worth using. However, you could potentially use precision cookers as a heating rod in emergencies.
Conclusion – Ready to Cook with Convenience?
This concludes the list of the best precision cookers for your requirements. We hope that you found something specifically for your needs. From entry-level selections, budget-friendly to professional-level, we have attempted to cover it all.
This is your one-stop for precision cookers, and we hope that the guide and FAQs further help you get a clear picture of the kind of sous vide you might need. You can revisit the comparison table for a glance at the capabilities.
So, go ahead and enjoy delightful dishes without compromising your life with the proper controls and settings. Bring out the gourmet chef in you and surprise the world with your brilliant cooking skills!
At Best Cart Reviews, we have selected the  precision cookers after extensive research, so that you get quality products. We skimmed through several customer reviews, and watched YouTube videos to select the solar panels for this review.
BestCartReviews has also provided the best review for other branded and user purposes or user seeking cooker reviews also, for example the best ninja foodi deluxe pressure cooker, best instant pot pressure cooker.