August Wi-Fi 4th Generation Smart Lock 2023
Is It Worth Using For Your Home Security?
What is the best smart lock for the home? Much like anything else, there are countless options. However, August Wifi Smart Lock certainly stands out. It is up to the 4th generation, which means that it exists for a while. The question is if it is worth the money and if it is better than previous generations.
This is a complete August Wifi Smart Lock Review. We will go in-depth to uncover almost everything. From its ease of use to challenging deadbolt compatibility, you will get complete information. Thus, you will make a 'smart' decision by the end of this article.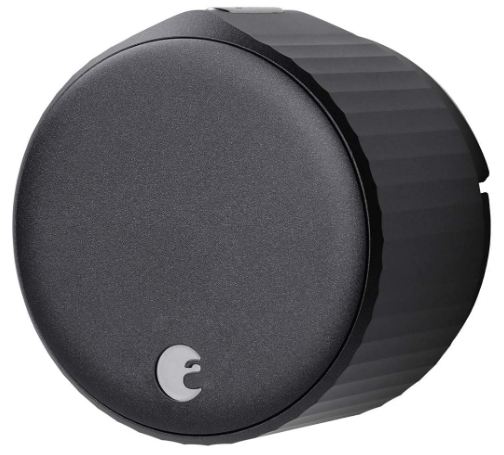 A Smart Lock that's Actually Smart!
Before we begin, let's learn a little about the Smart lock. August Wifi Smart Lock has been an industry's pioneer in many ways. Most of the locks are easy to use and work great with deadbolts. This being said, if you don't have deadbolt locks, these might not be useful for you.
Given that most households use deadbolts, the August smart lock becomes one of the best choices available.
As the best wifi smart lock, it connects with Bluetooth and wifi options. You can control it remotely through an app or make it automatically unlock by detecting your vicinity. It can open even if you're far away, upon your command, of course.
You can also give guest access to your other family and friend members and keep track of the lock activities. There is no need for you to get out of the bed to check if the door is locked or not, you can just talk to your smart assistant, and they will check for you.
These things make an actual smart lock as it adds to comfort and convenience. But is it the best wifi smart lock? This is something you might have to expand upon.
Sale
Bestseller No. 1
Sale
Bestseller No. 2
Bestseller No. 3
A Deadbolt Security
As mentioned before, it works fantastically with a wide range of Deadbolt locks. You can use it with your pre-existing locks. There is no need for you to invest in a new installation of the locks for the system. Of course, there are always some limits.
This one has a particular limit that might not work with low-profile deadbolt locks or the ones that have twin deadbolts. You might have to check better.
A More Compact And Reinforced Way To Secure Home
So, is it better than the previous 3rd generation? It turns out the new generation smart lock has an extended battery. August wifi smart lock battery life lasts around 3 to 4 months easily.
Next up, it is at least 45% smaller than the previous locks. This makes the lock denser, more challenging to break through, and easier to install. It can work with any door or lock size now, and it has enough power to do so. This makes it a pretty worthwhile selection.
Additionally, the smart wi-fi lock comes with reinforced security and many more features you'll learn about below.
Connectivity Options And Review
Before we get down to the features, it would be right to talk about the connectivity. After all, it claims to be a 'wi-fi smart lock.' How smart is it, and does it connect conveniently?
Auto-Connect With Wifi: Making Your Life Convenient
For the starters, right as you pull it out of the box, the lock can connect with the available wifi network. However, if you want to set it up, you might have to invest some time.
Despite being a 4th generation lock, it doesn't have 5Ghz Wifi support. According to their customer executives, it is because of the 'range.'
5 GHz connections require closer vicinity (25-30 feet) to work. Meanwhile, 2.5 GHz bandwidth has an extensive reach, and you can even extend it with the router. Therefore, it is a much better option.
Well, that's understandable, but routers for 5 GHz connections are also available. So it is not that smart in Wifi connectivity. But given that it is just a lock that doesn't need to stream videos or download content, 2.5 GHz wifi compatibility isn't a dealbreaker.
Bluetooth Access Is Available: Seamless Wireless Connectivity
Moving on, if you don't have a wifi setup or don't want to use it, there is a Bluetooth option available. However, you would have to sacrifice many easy or 'smart features' it comes with. For example, you won't have any use for the app, guest access, or an access control if you're not home.
It will work like a typical automatic lock, that's all. You'd have to be in its presence to lock or unlock it. Regardless, it is great for scenarios where your internet might be down and need an emergency entry.
Smart Device Compatibility
August wifi smart lock works with smart devices. You can set up your phone, smartwatch, tablet, or other devices to sync and work with the smart lock. There isn't much restriction here. You can even manually or individually control access of each device and person. This adds to an extra layer of 'authorized' entry to your house.
Smart Home Control: Everything at your Fingertips
Furthermore, the device also works great with the Smart Home infrastructure. If you're using anything like Alexa, Siri, or Google Assistant, you can set up your August Wifi smart lock with it.
This opens the possibilities of more convenient features. For instance, you can ask the assistant whether the door is locked or not. There is no need for you to get up and check manually. This adds to a lot of conveniences.
Smart App Control: App Available for iOS and Android
This is where the wi-fi smart lock slacks and drastically, too. The app hasn't been the most user-friendly or intuitive available in the market. It is excellent for keeping track of alerts and notifications, you can use it for features, but it isn't responsive. It can take time to make the smart lock react.
Regardless, you still have in-app access and the ability to customize the settings as you like it. So, that's still a big plus.
Features That Stand Out
For a 4th generation smart lock from August, it comes with an array of features. Some would say that it still falls short, but it seems to have a lot going. Let's take a look.
Guest Keys
This is one of the best features you will come across. The Guest Keys allows you to set access for your friends or family members. It is just like sharing keys, and they can set up the pass on their device.
More importantly, it is not permanent. You can choose to revoke the access anytime you like. Similarly, other people can't withdraw your key as you're the primary owner.
It is great because if you're away from the house and someone came, even guests or some service provider, you can grant them access if you'd like.
Lock/Unlock Automation
This is another handy feature that the August smart lock comes with. If you walk closer to the lock, it will automatically register the device. Thus, the lock will automatically turn to unlock. You don't always have to use the app or devices to unlock.
This feature also eliminates the problem with the app being less responsive. You don't need it. More importantly, as you walk farther from the lock, it will automatically lock. This is a toggle-able feature in the app.
DoorSense
You can check right through the app to see whether the door is locked or unlocked. That's not all! You can even get information on whether the door is 'open' or 'closed.' The sensors work remarkably well.
So, if you are afraid that someone might leave the door open and not shut it behind them, it is a great feature. You will get complete access to the app.
Additionally, it also works with the smart home setup, so that's a big plus, too.
Activity Feeds + Alerts.
As mentioned countless times, the August wifi smart lock (4th gen) also comes with activity feeds. You will get a complete notification. If you have multiple locks, you can sync them together for a single control. You will know which door is open, closed, or unlocked and locked.
You can also customize the notifications. If you want to get a message if a specific person comes home and uses the lock, you can get that right on your phone. This makes the smart lock worth adding to the house.
Pros And Cons – The User Experience
Most of the pros and cons are covered above. These are just different ones that are more focused on the 'user experience.' Therefore, you will get to learn some benefits and drawbacks of using the August Wifi Smart lock. 
Pros
Great Battery Life
The smart lock runs on a battery. It will work for up to 3-4 months. Generally, it is better to get it replaced by the end of the third month. So, you don't have to connect it with a power grid or other sources.
Easy To Install
It is effortless to install and works with almost every deadbolt lock type. The setup would take around 10 minutes at best. There is no need to buy a new lock system unless you don't have a deadbolt lock.
Convenient To Use
The array of smart features and responses makes it quite convenient to use. Many automated processes are admirable and make things easier.
Cons
You Need To Maintain The Lock
If the lock itself is flawed or gets stuck, the August Wi-fi smart lock won't magically solve the problem. It won't work if your lock isn't in good condition. So, you would have to change or maintain locks from time to time.
Might Not Be Compatible With Low Profile Deadbolts
While it claims to be compatible with almost every deadbolt type, it doesn't seem to work with low-profile deadbolts.
App Requires Some Significant Updates
The app experience is very poor. It is not even worth trying. Even with the 4th gen addition, the app needs some profound tweaks. The company should focus on improving the app. It can get non-responsive from time to time or show connectivity issues.
Final Verdict – Is August Wi-FI SMart Lock Worth The Money?
If you forget about some drawbacks we've covered in the August Wifi Smart Lock Review, then it is the best wifi smart lock. There's no doubt that it comes with several brilliant or convenient features. It is easy to set up and user-friendly.
If you don't mind the above-given cons, it is worth getting reinforced and secure. The only problem is that it might be better to buy in sales or with a discount.
If you are getting it for the initial MRP or selling price, you might want to hold up. There are many websites like Amazon that offer discounts.
The lock is certainly not worth $250 (The initial MRP), but it is worth the consideration if you can get it for $200 or under.
About Best Cart Reviews
At Best Cart Reviews, we search for the best products after extensive research, so that you get quality products. We skimmed through several customer reviews, and watched YouTube videos to select the smart lock for this review article.
BestCartReviews has provided the best review for other branded and user purposes or user seeking home security products also, for example the bestfingerprint doorlocks for home, 5 best 4G security cameras.
Also, Read few relevant Products Reviewed by BestCartReviews