Vector Robot by Anki
A Home Robot Who Hangs Out & Helps Out, With Amazon Alexa Built-In 2023
Need a full–time home assistant?
Anki's latest invention: Vector Robot is equipped with the latest cutting edge technology to help share burdens at a personal level. Equipped with Alexa voice command, self–navigation, WiFi–enabled Cloud service, HD camera, inbuilt sensors, and self–charging. 
Vector can comfortably move around objects, respond to queries via custom text–to–speech. Vector always knows where he is, his surroundings and knows his companion. He also offers up–to–date weather information, sets important reminders, and much much more. The all–in–one home companion incorporates Anki's self–service.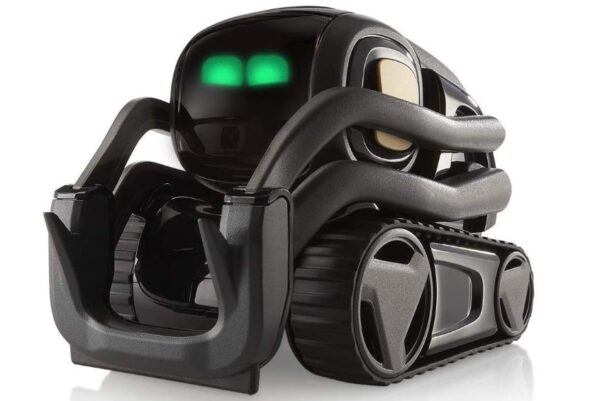 Enjoy a wide array of features powered by Qualcomm's high–end AI technology. Vector is programmed to be compatible with Apple and Android smartphones. Look no further! Vector is always there for you.
Anki: The Company's Overview
Anki is a reputable toy and home robot developer. The American company holds a high position amongst its competitors; Hexbug, Makeblock, Pololu Electronics, etc. It's well known for manufacturing smartphone–controlled toy cars; one of them being the legendary Anki overdrive. Anki is also a manufacturer of personal robots that people buy to keep them company at home. It's also famous for good products, customer support, and supporting easy payment methods.
However, the company was closed down last year April, plunging its customers into a period of uncertainty. Luckily, new hopes arose when Digital Dream Labs announced that it would purchase Anki's assets and continue making similar products.
Bestseller No. 1
Bestseller No. 1
Anki Cozmo Accessory, Treads
Cozmo's got some new treads to suit his many moods
Includes 4 pairs of treads: osmosis blue, luminous lime, new Dawn yellow, and Crimson flame
Made of durable, non-marking material
Vector Robot Key Features
Ultra

–

wide

120P

camera

Alexa

Voice

control

Qualcomm

 

AI

Tech

Cloud

Service

Four

–

microphone

setup

Sensors

:

Drop

sensors

,

Capacitive

touch

sensor

,

IR

Laser

scanner

High

–

resolution

IPS

Color

display
Artificial Intelligence Tech
Anki's Vector robot is equipped with one of the latest Qualcomm's platform 200 AI. This technology is used in smartphones and having it on the vector bot is an added advantage.
It allows the Vector robot to "think" like a smartphone. Qualcomm AI constitutes a 1.2GHz quad–core Snapdragon processor to run its functions.
Connectivity
Enjoy a fully functional Cloud service enabled through WiFi connectivity. The Vector bot connects to Cloud service via WiFi to update e.g weather. Just make sure you have a strong WiFi connection to support your device and receive real–time data.
Display & Camera
Anki's Vector robot has a powerful wide–angle HD camera with 720P resolution. It automatically detects the people around it and relays any messages addressed to them. This feature comes in handy especially if you have to remind somebody to do something like washing the dishes, taking out the trash, etc. 
The camera also helps the device to detect objects and move around safely. As for the IPS displays, it's located on the moveable head of the robot.
The IPS display shows a variety of "emotions" to make the robot seem a little bit more human. Something like a "bored" face with raindrops on a rainy day.
Vector robot Alexa
One of the most interesting features of this device is how it works with Alexa. The Vector bot supports Alexa voice control to reply to queries. 
For example, if you ask what the weather looks like outside, the robot will understand the question and show you on its screen. Thanks to the four–microphone setup. But if Alexa doesn't hear you, you can turn to the mobile phone app.
Alexa voice commands also help in setting alarms and controlling other domestic gadgets e.g. lights, temperature, etc. The vector bot tends to listen very well and respond to commands.
Self-charging
Anki's Vector robot knows when it's almost out of power. After detecting this, it will simply travel to its base station, which is powered by a USB cable. 
The charging port is located just below the treads and the process of going back to its charger is automated.
This way, you don't have to worry about it going off. A simple command like "go home will also send the robot to its charging booth to await further orders.
Vector Robot Accessories
The device has several accessories including a USB cable, its own vector space. The developer also made a carrying case for portability, decoration kits, screen guard, etc. Some of these accessories are not provided by the manufacturer, so you have to go find your own.
Fortunately, dealers at places like Amazon have many accessories you can shop for.
Sensors
The device has an accelerometer sensor and a gyroscope that enables it to respond to touch. It can intelligently know when it's being moved. But try not to shake it.
Design
Vector bot has a robotic design with a pivoted head. The body looks like a tank/tractor treads with fork–like arms to pick up the vector cube. The Vector robot is a small machine but don't underestimate its capabilities. Once you use it, you'll find out how much of a companion it can be!
Now that we have looked at the features of the device, it's time to look at what people buy it, what they like and what they hate. Here are the pros and cons at a glance…
Pros & Cons of Vector Robot
Pros
Easy

controls

thanks

to

Alexa

voice

control

and

Vector

robot

mobile

app

.

 

It

'

s

compatible

with

Android

and

iOS

devices

and

can

be

found

in

Google

Play

and

Apple

store

for

download

.

It

'

s

free

.

Personalized

response

. 

The

four

–

array

microphone

setup

enables

the

device

to

listen

to

its

owner

and

also

turn

around

to

answer

. 

When

you

ask

for

the

weather

,

it

will

display

a

characterized

response

including

showing

raindrops

on

its

face

. 

When

you

ask

questions

,

it

will

pay

attention

and

respond

to

you

.

But

this

only

works

when

the

robot

understands

your

query

.
Cons
The

Vector

robot

does

not

support

some

music

services

including

Spotify

,

Pandora

,

and

SiriusXM

.

However

,

the

device

can

connect

to

an

external

sound

device

and

enjoy

your

playlists

.

Absence

of

active

customer

service

.

Anki

has

no

available

agents

since

its

closure

and

this

has

created

the

need

for

self

–

service

.

However

,

Anki

stated

that

it

would

provide

long

term

support

for

its

customers

and

their

apps

.

Missing

components

like

the

USB

adapter

mean

you

have

to

find

your

own

from

external

dealers

.
What does Vector Robot do?
It's a home assistant that helps you remember important dates, speaks, and keeps you company. It helps you control other devices at home including lights, control smart plugs,
Do you need a smartphone to control the device?
Vector Robots can function without a smartphone. However, it is advisable to download the smartphone app for better control and to monitor what it's doing.
Can it climb stairs?
Unfortunately, no. You have to keep it on a flat surface.
Can I have two vector robots at home?
Yes, it's possible. However, if they are too close to each other, they will respond to the same commands.
Conclusion
The vector robot is designed to be a fun companion. From its features, we've seen that it plays its part as your faithful assistant.
Unfortunately, Anki went out of business and due to a lack of sufficient working capital. This is a big blow to anxious customers waiting to get the next of Anki's releases.
The device has many amazing features and is worth a consideration if you're looking for a robot assistant.
Also, Read Relevant Best Product Reviews by BestCartReviews