Aprilaire 700 vs 800 Reviews – We know buying the best humidifier is challenging as there are tons of products available in the market. After extensive research, we came across Aprilaire 700 and 800. We found out that these two humidifiers are the best-selling products these days. Not only these humidifiers deliver what they promise, but they also have reliability and durability to offer.
But you have to buy one device, and that can lead to confusion. For your ease, we have compared Aprilaire 700 and 800 to make sure that you can buy the best device for your requirements.
Here is an in-depth comparison of these two intelligent humidifiers.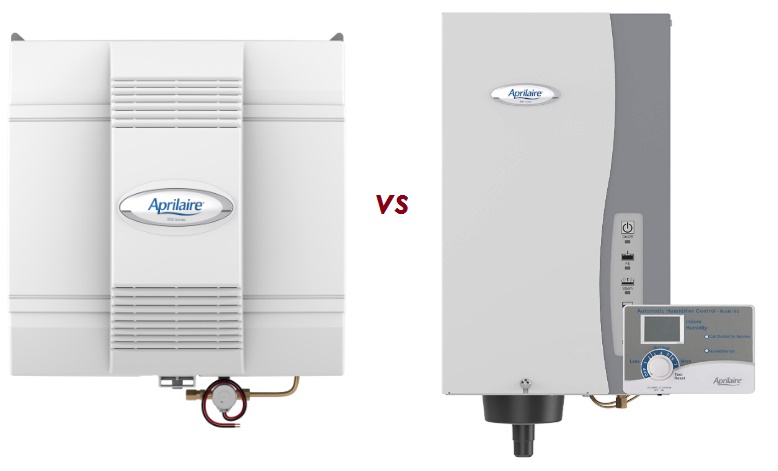 Aprilaire Humidifier 700 vs. 800 2023
Both the humidifiers from Aprilaire are famous for the features they offer. Still, you can't settle down with two devices, so a comparison is a must.
We have compared these two humidifiers based on several factors that impact the humidification inside your house.
Automatic Sensors
Both devices come loaded with two smart sensors that can check the outdoor and indoor temperature to ensure the best humidity inside your home. These are automatic humidifiers, so there is no need for any manual intervention. Aprilaire 800 has a little bit better automation, but the difference if not too significant.
Water Capacity
With Aprilaire 800, you get the option to select from multiple water level capacities, and you can add 11.5 to 34.6 gallons of moisture to the air depending on your needs. On the other hand, with Aprilaire 700, you don't get any water level selection feature. If you need best-in-class humidification for your home or office, then Aprilaire 800 should be your choice.
Purified Water
Humidifiers work with soft water because hard water can damage the electrode rod fitted inside the machine. But with Aprilaire 800, you can use hard water as well. This humidifier can purify the water before humidifying your home. When we talk about Aprilaire 700, then it requires soft water that doesn't contain any harsh impurities; otherwise, the life of the humidifier will decrease.
Coverage Area
The coverage area is another essential factor. If you need more coverage, then go with Aprilaire 800 as it can cover up to 6,200 square feet even in homes that are tightly built. Aprilaire 700, on the other hand, can only cover up to 4,200 square feet.
Power Consumption
The power consumption of Aprilaire 800 is less when compared to Aprilaire 700. As Aprilaire 800 has the multi-level selection and you can select the lowest level of humidification to save some electricity. There is no similar option available in Aprilaire 700, so it consumes more electricity.
Electric Protection
Both the humidifiers have electricity protection features like over-current protection, over-charging protection, and protection against short-circuits. In terms of protection against current issues, you can select any humidifier as both have excellent functionalities.
Price
Aprilaire 700 comes at a reasonable price because it has fewer features to offer when compared to Aprilaire 800. If you need more features and better humidification, then go with Aprilaire 800.
Aprilaire 700 whole house fan-powered humidifier is one of the best-selling humidifiers for a reason. This device offers everything you need and has an automatic system that eliminates the need for any manual intervention. Aprilaire offers excellent after-sales services, and you will never regret buying this humidifier.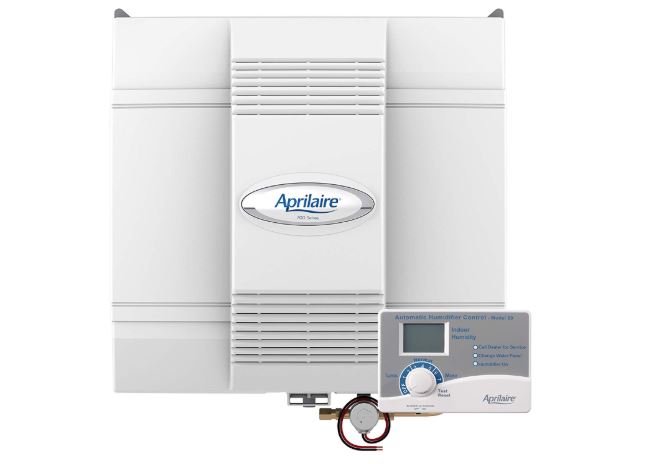 Bestseller No. 1
Frequently bought together
Bestseller No. 1
Coverage Area
Aprilaire 700 can cover up to 4,200 square feet of the area as it is a moderate humidifier. The water capacity of this device is 18 gallons, and that is enough to humidify your home for one day. All you need to do is switch the humidifier on, and it will work as per the promise.
Maintains Optimal Humidity
No matter whether your home is situated in a dry area or the season strikes with season dryness, this humidifier can work for you. It guarantees the best level of humidity required for best-in-class comfort.
Built-in Fan
The device has a built-in fan that pulls air directly from the furnace to spread it evenly inside your home. There is no need to get an additional fan with Aprilaire 700.
Friendly for Homes with Pets and Babies
Pets and babies are more prone to allergies and issues due to dry air, so a humidifier is a must in these homes. This humidifier is ideal for babies and pets as it emits the best level of humidity for your house.
Benefits of Using Aprilaire 700

Requires less maintenance

Built-in drain line

Water panel change indicator

Efficient water consumption

Automatic controls

Decent coverage
If you have a big home and more area to cover then, you should choose Aprilaire 800 whole house steam humidifier. This device has a lot of features and can work with hard water, which makes it a champion.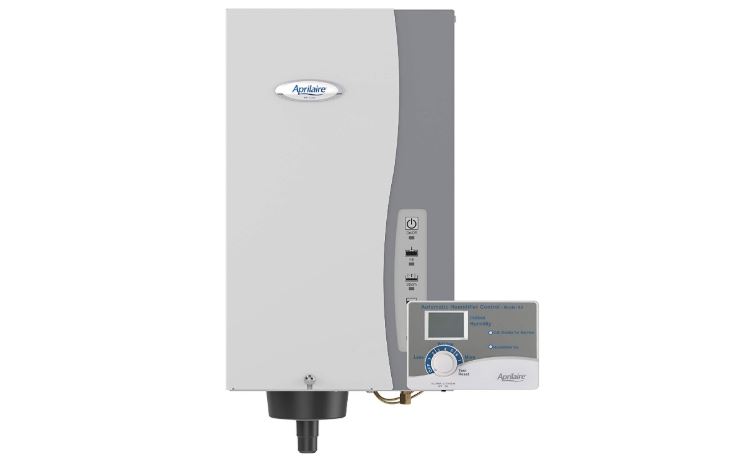 Bestseller No. 1
Aprilaire 700 vs 800 –

Frequently bought together
Bestseller No. 1
Automatic Controls
Just like Aprilaire 700, this device also has automatic controls. The dual sensors can detect the indoor and outdoor humidity to make sure that your house remains moist, and there is no dry area anywhere. Also, the automatic mode will notify you whenever the humidifier is draining water or releasing heat so that you can take the decision of switching it off or keeping it on as per the situation.
Moreover, there is a notification when it is time to replace the canister.
More Coverage
Aprilaire 800 can cover more area when compared to 700. It has a coverage area of up to 6,200 Square Feet and is ideal for big homes. Whether your home is tightly ventilated or not, this humidifier can deliver the best results.
Works with Hard Water
There is an electrode installed in Aprilaire 800, and it purifier the hard water to make it ideal for the humidifier. You don't have to spend any money on purifying the water before feeding it to the humidifier.
Digital Humidistat
With this digital humidistat, you can maintain the best level of moisture inside your home. There are no chances of any respiratory infections, as the level of humidity is always controlled by the humidifier.
Benefits of Aprilaire 800

Saves energy

Multiple water levels

Low maintenance

Works without an HVAC system

Digital display
Aprilaire 700 vs. 800 FAQs
What is the noise level of the Aprilaire humidifier 700 & 800 when operating?
Aprilaire 700 and 800 are the two top-selling humidifiers in the market. These devices produce very little noise that is not disturbing in any way. If you have a baby in your home or you love complete silence, these humidifiers are the right choice for you.
Does Aprilaire humidifier require a drain line?
No, there is no need for any drain line with Aprilaire Humidifiers if you choose drain-less models. In case you select a model that drains the water, then you need to connect it with the drain line.
Which Humidifier Should You Buy?
Both Aprilaire 700 and 800 have advanced features, and both are automatic humidifiers. But Aprilaire 800 is better in every aspect. It requires less maintenance and can work with hard water. In case you have a limited budget, then you can consider buying Aprilaire 700 as it is reasonably priced and is ideal for tightly ventilated homes.
Also, Read Relevant Best Product Reviews by BestCartReviews
Conclusion
Our review teams have tested these humidifiers to make sure that these deliver what the manufacturer claims. We recommend you to call a professional technician to install the humidifier so that you can get the best results without any issues.
Whether you buy Aprilaire 700 or Aprilaire 800, your home will remain dryness-free at all times, and that is what you need.