Which smart thermostat is best? Smart Thermostats took the world by storm in the 2010s. A decade later, we've seen some significant improvements in their design. Today, they can be a part of your smart home system. But which smart thermostat is best? How do you find that out?
Thankfully, we have curated a list of smart thermostats hand-picked for specific requirements. It is your one-stop with every kind of option available. From entry-level to the high-end best smart thermostats for electric baseboard heaters, there is everything you need.
Apart from the top smart thermostats review, we have also provided a buyer's guide and some commonly asked questions. These will help you get a better idea of what to look for in a smart thermostat for home, office, or anywhere else.
By the end, you will have everything you need to know about smart thermostat to make an informed decision. So, without further ado, let's begin!
Comparison Table: Know the Difference
Product

Style 

Controls 
Power Source 
Colors 

Emerson Sensi Wifi Smart Thermostat 

Do-It-Yourself Thermostat

Voice Assistant (Any)




Smart Home App (Any)




Remote Control




Manual Control

Corded Electric

Black

Ecobee Smart Thermostat

Smart Thermostat

App Control




Smart Home Control




Smart Sensors Control




Touch Controls

Battery Powered

Black

Google Nest Thermostat

Smart Thermostat

Google Smart Home




Voice Controls

Wired Powered

Sand, Snow, Charcoal

Google Nest Learning 3rd Gen Learning Thermostat

Nest Thermostat

Google Smart Home




Sensor Controls




App Controls




Smart Assistant controls




Voice Controls




Spin Dial

Battery Powered

Seven Different Colors

GLAS Smart Thermostat

Glass Display Thermostat

Manual Controls




Sensor Controls




App Controls




Smart Assistant controls

Battery Powered

Transparent Black Glass

Honeywell Smart Thermostat

Smart Color Thermostat

Wifi Controls




Dial Controls




Voice Assistant Control




App Controls




Touch Controls

Wired Power

Gray Body, Blue Screen

Vine Smart Thermostat

Modern Decor Thermostat

Wifi and App Control




Dial Controls




Voice Assistant Control

Wired Power

White

Ecobee 3 Smart Thermostat

Minimalist Or Lite Thermostat

App Control




Smart Home Control




Voice Controls

Wired Power

Black
Top Smart Thermostat For Electric Baseboard Heaters 2023
1. Emerson Sensi Wi-Fi Smart Thermostat


Connectivity: Wifi 2.5 GHz
Dimension: 3.75 x 5.88 x 1 inches
Weight: 13.6 ounces
Warranty: 3 Years
Emerson Sensi is among the best options standing at a range slightly above the entry-level smart thermostats. It is a DIY-friendly choice that you can install within 30 minutes to the preexisting thermostat wires in your house without any problem.
The thermostat has received much recognition and high value for a thermostat by professional enterprises like USA Today. More importantly, it comes with an Energy Star certification. This makes your HVAC at least 20-23% more efficient to reduce the overall cost.
The features include 7-day scheduling, remote access through an app, and in-app controls through wifi connectivity.  For installation, the instructions are easy to follow. It works with almost any system, from conventional thermostats to heating, cooling, or specific functioning ones.
Of course, you can synch Emerson Sensi Wifi Smart Thermostat to your smart home infrastructure. It works with your virtual assistant like Amazon, Google, Siri, Samsung, and so on. You will also receive complete analytics and reports to go by for better settings.
The remote control is worth the commendation as you can access the thermostat from anywhere. Finally, the smart alerts keep you in the loop regarding any extreme temperature changes or humidity levels that you should know about.
Pros:
Compatible with every known system and might not even require C-wire for the conventional setting.

Energy-star certified and best value smart thermostat.

Do-It-Yourself friendly with a comprehensive guide.

The app is fantastic, and remote access is great to access it from any part of the world.
Cons:
Requires C-wire for systems that aren't conventional HVAC.

It has a bare basic design to save on the cost.
2. Ecobee Smart Thermostat With Voice Controls
Connectivity: Wifi 2.4 GHz
Dimension: 4.29 x 4.29 x 1 inches
Weight: 1.8 Pounds
Warranty: 3 Years
For a high-end smart thermostat, Ecobee is one of the best options. It has been a pioneer right on par with Google Nest. The primary selling point is the SmartSensor it comes with. It is a wireless sensor that you can place in any room that is important to you. Thus, the thermostat will know how to regulate the temperature of the room according to your settings.
This makes it a pretty smart thermostat, true to the name. More importantly, it comes with Smart Home compatibility and works with all the significant setups. The sensor also allows it to sense your presence to automatically initiate or shut off the cooling or heating system according to the requirements.
The thermostat can also access the digital data and keep records of the schedule. As many places in the world have a specific timing when energy or power is cheaper, it will utilize that time to optimize your home's temperature. There's no doubt that this is among the best overall Smart Thermostat, and while others offer bare-basic features, Ecobee Smart Thermostat tries to take it to another league.
Of course, it comes with a company-provided app for complete control and remote access. As you can also use it with the smart home layout to control it through the voice. Even a subscription package, 'Ecobee Haven,' will further augment the thermostat's capabilities.
It has a fantastic touch-screen with smooth controls, battery life is relatively high, and it is user-friendly to install. With the ease of addition, you have got yourself a masterpiece.
Pros:
SmartSensor is an ambitious addition that makes life more comfortable.

Works to save cost on energy for higher efficiency.

Automated tasks and complete app control are best-in-class.
Cons:
You'd need Ecobee Haven's subscription to unlock the potential of the thermostat truly.

It is a high-end thermostat and costs like one.
3. Google Nest Thermostat – Editor's Choice
Connectivity: Wi-Fi
Dimension: 3.3 x 3.3 x 1.1 inches
Weight: 8.2 ounces
Warranty: 1 Year, Extendable To 2 or 3 Years
Apart from the Ecobee Smart Thermostat, Nest is another pioneer in the field. The product is from Google and comes with a lot of endearing features. It is among the older versions but falls in the mid-ranged options available in the market.
First of all, you get the same signature energy star certification that makes it highly efficient and enables you to stay comfortable. The Nest thermostat comes with a similar sensor-type integration which turns down when you leave and conserves energy.
You can also program and use various schedules directly from smart home (Google) or smart device (iOS or Android). It is almost on par with Ecobee's high-end selection because it can also access various information like rebates to help you customize the schedule to save energy and resources.
More importantly, you get all the standard smart features like remote control from a PC, phone, or laptop. It also works with voice assistant controls. You will receive alerts if anything is not working correctly or if there is a system problem. Additionally, there will be a consistent flow of information regarding the use. So, you can keep your system well-maintained, as well.
The smart thermostat Nest comes with a cutting-edge design that looks vibrant and unique color themes. You can choose from three options, and it is as easy to install as any other DIY-friendly choice. The Smart thermostat has also received a lot of upgrades to work with the majority of systems.
Pros:
A decor-like design to look good in your house, with three unique colors available.

Works primarily on saving energy and coming up with conservative resource scheduling.

Auto-detects the presence of the person to start working.

Comes with all essential smart features and options.
Cons:
It is an older-gen Nest. There is a 3rd generation in the market.

The smart thermostat Nest might not be compatible with all modern systems.
4. Google Nest 3rd Generation Learning Thermostat: Also Great
Connectivity: Wi-Fi
Dimension: 3.3 x 3.3 x 1.21 inches
Weight: 1 Pound
Warranty: 1 Year + 2-3 Extension Available
The previous smart thermostat Nest was already an excellent choice as a mid-range option. It had the efficiency of the entry-level and proficiency of the high-end smart thermostat. But here you have the 3rd generation of Smart Thermostat. Google isn't sparing anything as this one also comes with a bundle of sensors and wifi bundle for ease of installation.
From the looks, you can see the model that is slick, vibrant, and quite appealing. It comes with an array of colors that have expanded as compared to the older model. The smart thermostat has all the necessary features like programming, scheduling, and energy-saving options.
Eco Temperature feature allows the thermostat to automatically save energy and resources if you're away or resume functions when you return. Multiple people can acquire remote access to the thermostat to change it accordingly. Thus, you can control it from anywhere you like.
You also get insights regarding energy consumption. It enables you to make changes to energy settings or have a specific schedule. However, it also keeps the roots of a conventional thermostat with dial controls and notifications active. In other words, you will have a better idea of why the system is inefficient.
That would enable you to call for repairs or maintenance to save any unforeseeable trouble. On the drawback side, you'd have to buy the Nest Temperature sensor separately. But there's no doubt that it is an elegant addition to the house.  It is compatible with 9/10 HVAC systems, at least. Overall, among the high-end smart thermostat, Google Nest is worth the consideration.
Pros:
3rd Generation Smart Thermostat uses Machine Learning for more efficient performance.

Works with all kinds of smart-home systems.

It comes with the bundle offers to help you save money.

Several automated functions make it a great addition.

Sleek design, lightweight, and easy to install.
Cons:
The mid-range previous generation Google Nest isn't that far off in the performance.

It is pretty high in the price you pay to have it work with your HVAC if the previous-gen doesn't work.
5. Johnson GLAS Smart Thermostat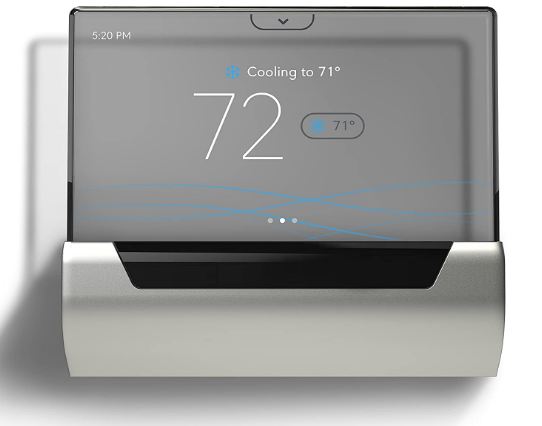 Connectivity: Wi-Fi
Dimension: 1.18 x 5.51 x 5 inches
Weight: 8 ounces
Warranty: 2 Years
This looks like a premium-grade addition available at mid-range pricing while encompassing a wide range of features. Johnson GLAS stands out from other thermostats due to the translucent OLED display it comes with. This gives the appeal of a high-tech addition to your house.
First of all, it comes with indoor air quality monitoring and outdoor air quality monitoring. It means that the thermostat will tell you about VOCs, CO2 index, humidity, and much more for the rooms. Additionally, it will tell you about the air quality, UV index, allergen, and pollen counts for the outdoor atmosphere.
You can connect it with 2H/2C, a heat pump, and up to 2 Aux Heat. That's not all. It works with gas, oil, and electric HVAC systems, even ground air and water source heat pumps. It is indeed one of the most versatile thermostats on the list.
Of course, you also get the full features of a smart thermostat that you find in others mentioned so far. It has Alexa and Smart Home connectivity. You can schedule the system and integrate a sensor to sync with the thermostat.
If you have multiple thermostats from GLAS, you can control all of these from a single-hub app. This is quite convenient for individual room control.
So, with full features and aspects of an intelligent thermostat and then a mix of air quality index and translucent OLED display, Johnson's GLAS thermostat is one of a kind choice.
Pros:
A unique choice from other smart thermostats.

Comes with an indoor and outdoor air quality index.

Works with a wide range of HVACs powered by different resources.

Single app hubs could sync and work with different GLAS Thermostats.
Cons:
It is a high-profile design and will indeed stand out.

You need to buy and use sensors separately.
6. Honeywell Home Wi-Fi Smart Color Thermostat: Runner Up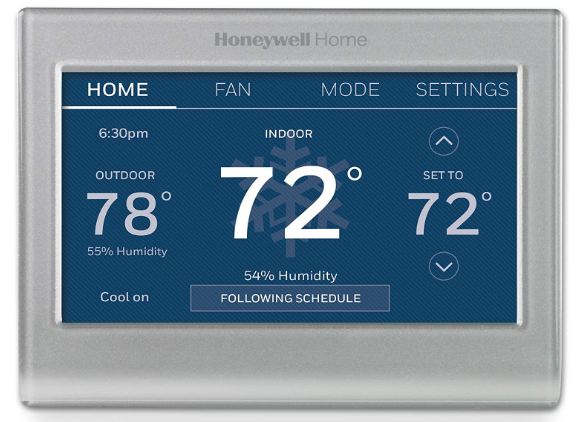 Connectivity: Wi-Fi
Dimension: 3.5 x 4.5 x 0.88 inches
Weight: 1 pound
Warranty: 1 Year Warranty
Honeywell Wifi Smart Thermostat has one unique quality that makes it stand out from the rest. It has a customizable display that makes it possible for you to choose the color for the display. It can be any color from blue, red, to yellow, which is attractive because it can settle down to your home's interior.
You get the same standard and cutting-edge features that are common among smart thermostats. Honeywell does make it easier and more intuitive with the touchscreen for ease of controls.
Apart from the average smart thermostat analysis, you also get the daily weather index. It will let you know and even predict the schedule or settings for you to initiate for the day.
This is quite handy for the comfort level of a person as your thermostat will intelligently maintain everything.
The Honeywell wifi smart thermostat comes with different apps (Total Connect comfort or Honeywell home app), which works with the wifi and internet connectivity.
Much like others, it is compatible with an intelligent home system but not limited to the big three. It even works with Microsoft Cortana or any other assistant you might have. It also gives you monthly usage insights so that you can customize it for better efficiency.
If your system requires any filter change or maintenance, the thermostat will provide you a notification. Overall, the Honeywell wifi smart thermostat takes care of almost everything that a 'smart' aspect of the thermostat should.
Pros:
A proper smart thermostat from Honeywell.

Several features are designed for the comfort of the user.

Efficient, data provider, and easy to control thermostat.

Works with any kind of virtual assistant, even the lesser-known ones.
Cons:
You can only change the display's color, not the body's.
7. Vine Wi-Fi Smart Home Thermostat
Connectivity: Wi-Fi 2.4 GHz
Dimension: 12 x 10.5 x 1.7 inches
Weight: 11.7 ounces
Warranty: Not Available
Vine Wi-Fi is another one of the 'eye candy' smart thermostats on the list. The fifth-generation smart thermostat from Vine comes with a highly stable connection thanks to the high-end chipset in the system.
You can connect it and use it with multiple devices at once. It can be set up with a smart home, smart device, even your smartwatch conveniently.
This thermostat is one of the more accessible options to install and set up. It is easy to maintain and doesn't need any battery to operate, either.
Making it one of the top-notch selections. It comes with a wide assortment of modes like energy-saver, 7-day scheduling, and much more. Thus, you can set it according to the requirements and save up to 20% of energy.
The 3.5 inches thermostat LCD certainly stands out with a bright and colorful display. It is easy to navigate and has a lot of setpoints for you. Overall, it looks high-tech but, at the same time, blends with the modern decors of the house. It is highly compatible with a wide range of HVAC systems.
The thermostat comes with all the tools, equipment, and apps that you will need to make it work. It has one of the best customer support, as well. Overall, it is easy to operate and comes with a lot of features.
This is a genuine 'entry-level smart thermostat' on the list. So, if you're under a budget and can't spend on high-end options, this one from Vine might be one of the best you can get.
Pros:
One of the best entry-level smart thermostats and high value for money

Sleek and decor-friendly design with a high-tech appeal.

Innovative features are similar to high-end thermostats.

Easy to install and operate.

Comes with all the tools and equipment you will need.
Cons:
It doesn't seem to have any viable warranty for you. So, that's a drawback.
8. Ecobee 3 Light Smart Thermostat
Connectivity: 2.4 GHz Wifi
Dimension: 4.05 x 1 x 4.05 Inches
Weight: 1 Pound
Warranty: 3 Years Limited Warranty
Ecobee3 lite smart thermostat is the perfect all-rounder to end this list with. It is compact, sleek, stylish, and among the top-notch smart thermostats available on the list. You can control it conveniently by using any device, even a smartwatch or an iPad, which is quite a versatile thing.
It comes with both Energy Star and SmartSensor additions, giving you the best of both worlds. Energy star certificate means it is 23% more efficient while SmartSensor brings a wide range of smart features and functions.
It comes with an advanced 5-day weather forecast to help you make the schedule or suitable customizations. Much like any other Ecobee flagship, it works with any smart home setup. So, what truly makes it different from the others on the list.
Ecobee3 lite smart thermostat comes with a power extender kit. For those who don't know, it makes installation easier.
You don't have to worry about intelligent thermostat line voltage as it works even as a two-wire smart thermostat. That is a remarkable versatility.
Overall, it is a well-versed choice for an entry-level. If you like the 3-years warranty and find the company reliable, then the Ecobee thermostat might be the best choice for mid-range smart thermostats.
Pros:
It comes with everything you'd expect from a smart thermostat.

Comes with SmartSensor and Energy Star certification.

Works for 2 wire, and line voltage settings, as well.

Compact, sleek, durable, and works with any house layout.
Cons:
It is available in a single color
Buyer's Guide: How to Buy the Best Smart Thermostat?
The first thing you'd have to consider before you get to buying a Smart Thermostat for Home is the budget. There are entry-level or budget-friendly, mid-range or standard, and then high-end or premium thermostats.
The features aren't too different, but those additional ones make a difference for extra comfort or luxury. It is mostly better to stick to low-end ones if you apply individual thermostats to the rooms. If not, then a single high-end control would be a value for money.
With that said, here are some other points to consider:
Smart Features
A smart thermostat comes with an array of features. The standard smart features are scheduling and remote access with Wifi connectivity and such. However, some come with additional features like indoor air quality, outdoor air quality, weather forecast, or smart sensors.
You'd have to consider how much you're willing to invest and the features that you need the most. For this, you have to understand your reason for buying a thermostat. Do you just want something that works automatically? Then an intelligent sensor would be perfect.
Compatibility with Smart Home
Any smart sensor that doesn't come with a Smart Home, Android, iOS compatibility is useless. There has to be a standalone app and proper controls. If it works with a wide range of voice assistants, that's even better. Always look for highly compatible smart thermostats.
Almost every thermostat above will settle and work with any smart home system. Sure, Google Nest Thermostat can be a little rigid, but it won't be much of a problem.
Ease Of Installation
Do you want to DIY the installation and basic essential maintenance? Most thermostats are easier to install and upkeep. If your smart thermostat poses any problem in installation, it won't be worth the effort.
Of course, it should come with proper braces, brackets, bolts, and connections to work. If you use 2 wires or other systems, it should have an extender kit. The ease of installation, especially for multiple rooms, will take a significant priority.
Remote Sensors
If you want to enjoy an actual smart thermostat, make sure that it is compatible with a remote sensor. Even if you have to buy them separately, this is the entire point of anything 'smart.' It will sense the hold and cold areas in the room. More importantly, the sensors can automatically turn on the HVAC system in your presence and according to the atmosphere.
It is something worth considering for your house and the future-proof smart thermostat.
FAQs on Smart Thermostat for Electric Baseboard Heaters
Thermostats FAQs
What Are The Benefits Of Smart Thermostats?
Smart thermostats come with many automation processes like automatically turning on the system or adjusting it according to the atmosphere and temperature. You can remotely control them in the absence, as well.
Are Smart Thermostats Worth It?
If you want the added convenience and something that works with your Smart Home layout, then yes, it is worth it. However, if you don't want to work with your smart home, there's no need. It all comes down to your requirements. Most of these are worth it.
What Smart Thermostat Works With Alexa?
Almost every smart thermostat in the above-given list works with Alexa. If you're in the market, check for the ones that have smart assistant compatibility. Most of these work with almost any virtual assistant, including Alexa.
Does a Smart Thermostat Save Money?
It would depend on your scheduling and whether you want powerful HVAC, energy-efficient, or any other option. But yes, they can save a lot of money with the automatic process, especially since you can control them and make sure that you didn't leave them running.
How To Install Smart Thermostat Without C Wire?
You would need an extension power kit for the smart thermostat to work without a C wire. Most thermostats are compatible with different connection options. It won't be a hassle to connect or install them as long as you know the procedure. If not, contact the expert.
Can You Install A Smart Thermostat By Yourself?
Yes. Most smart thermostats are entirely DIY (Do It Yourself) friendly. Therefore, you can install them within 20-30 minutes at best. They come with a complete assortment of tools and brackets to help you. If you know your wiring, then you can install it by yourself without any hustle.
Does Smart Thermostat Work Without the Internet?
Most Smart thermostats will work without the internet if they have Bluetooth connectivity as an alternative. So, if the smart thermostat doesn't have a Bluetooth backup, it won't work without the internet. The minimum requirement is a 2.4 GHz internet connection to ensure high-speed connectivity and long-range. 5 GHz is not the right choice because it lacks distance.
Conclusion: Is a Smart Thermostat the Right Solution?
That's all about Smart thermostats best in their field. From entry-level to high-end choices, we've attempted to bring you a complete assortment of options. We hope that you found what you were looking for. If not, then the buyer's guide with FAQs should help you solve the problem.
Smart Thermostats require minimum maintenance and often come with several useful features. So, if you're considering buying one, make sure to check out reviews on the company and ensure that it is authentic before buying.
With that being said, enhance your house's comfort level and HVAC systems with these hand-picked options today!
Also, Read few relevant Products Reviewed by BestCartReviews