3G Cardio Elite Recumbent Bike 2023
If you also have a worthwhile goal to stay fit and for this, you are putting your hard effort. So you don't have to stress your body so much, because the recumbent bike is a comfortable way that helps you to stay fit.
This 3g Cardio Elite RB Recumbent Bike is a piece of excellent equipment for advance level of exercise because while improving aerobic fitness, it burns your calories and fat.
The Recumbent bike is one of the best media of exercise that offers you the most excellent comfort along with its superb performance.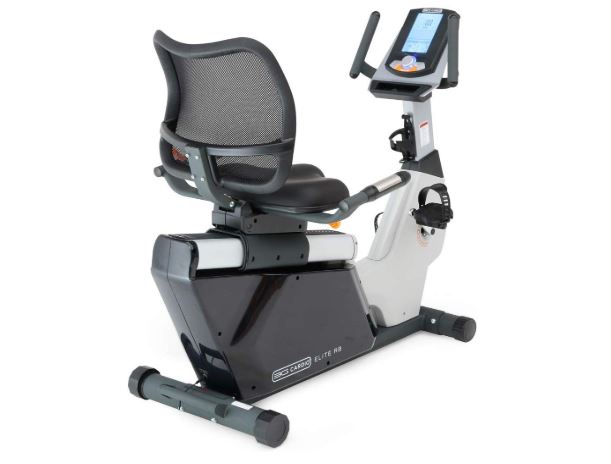 This compact and small size bike is also extremely durable and sturdy since you also get 3-way adjustable seatback. So let's take a look at 3g Cardio Elite RB Recumbent Bike review. We have covered its special salient features and why you should buy it.
Special highlights
Comfortable Fit
It is the unique feature of this 3G Cardio Elite RB Recumbent Bike that it comes with an extremely convenient, backrest, and adjustable seat, which will match your body size and shape.
Also, this Recumbent Bik is enormously well built and comes with a little dense body since built with a heavy-duty steel frame with an overall length of 49″, however, where other bikes won't fit into spaces, the Elite RB Recumbent Bike fits very well.
It's built with such a solid body that it can carry users that weigh up to 350 lbs (159 kg). All the parts of steel used in its construction attribute a powder with corrosion-resistant and finished with a durable coating. Also, the bike has somewhat a few covers made of PVC.
Adjustable Seat Back with Infinite Airflow Meshflex
The most comfortable 3G Cardio Elite RB Recumbent Bike provides you a comfy experience of exercise that you will ever use! Since it is one of the most convenient ways of exercise.
Therefore through Elite RB, you also get an Infinite Airflow Mesh Flex adjustable back that caresses your back very well. It is effortless to use, to set it in a comfortable position, adjust its seatback during your workout.
Easy-to-use & Effective Console
Combined With A Simple, Easy To Use Dial Interface, In this 3G Cardio RB recumbent bike, you also get an extremely Programmable Electronics Display. You get 12 Built-In Pre-Programmed Workouts.
These are included as 12 programs that will be preset, which enables it to delivers diverse workouts focusing on peak performance, intervals, weight loss, etc. Besides, there are also a 1-watt program and three heart rate programs available.
Adjustable Seat Back
The 3g Cardio Elite Recumbent bike features with a comfy seat that is approx. 16″ (40.6 cm) wide comes with a backrest reclining feature with the construction of Infinite Airflow Mesh Flex. Therefore, the main trait of this adjustable seat is that during your workout, it allows you to adjust its position according to your comfort requirements easily.
No doubt that while you'll be exercising, this elite recumbent bite will be providing excellent comfort since it integrates a thick layer of padding and also has a contoured surface. Also, it offers superior breathability and flexibility since it is constructed on a durable frame.


Drive and resistance
Also, this the 3G Cardio recumbent Elite RB bike features with a superb drive system with a somewhat exceptional construction that makes it unique than most other recumbent bikes. At the front, you get the pulley with pedals and crankset functions, whereas the magnetic brake and flywheel are placed under the seat at the rear.
To never let you feel any lateral stress on the knees and ankles while pedaling, this recumbent bike is, therefore, comes with a narrow Q-Factor (between the spacing of the pedals). The solid steel is used with a chrome finish in the designs of these crank arms, while the durable nylon coating pedals also have a metallic core.
The pedals are also outfitted with flexible straps; since they're self-leveling, for instance, at the bottom side. They have a petite weight that also permits them to turn face-up continually. At the same time, you take out your feet from them.
Easy Handle Controls
Remote handle electronic buttons for easy programming also provide handheld heart rate contact sensors with a wireless Heart Rate strap.
The handlebars equipped with two sets in 3G Cardio Elite RB that mainly include one on the console mast and one attached to the assembly of the seat. There are integrated seat handlebar resistance controls with metal EKG pulse sensors.
Also, you can adjust their angle when you tilt the seat because they're well attached to the seat frame. Without any extras stuff, the pretty simple construction has been used on the front handlebars. Both sets of handlebars are non-adjustable, but for extra comfort, they also have rubberized grips.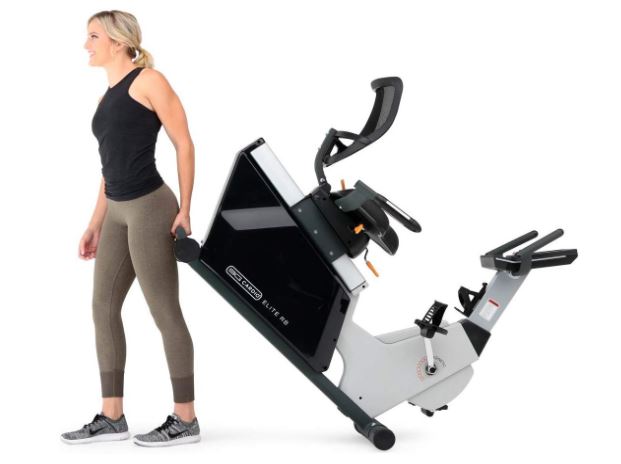 What are the pros and cons of this Recumbent Bike?
Pros
Can support users up to 350 lbs;
Durable, commercial-grade construction;
Good-looking design
Adjustable stabilizers;
Cushioned and contoured seat;
Flexible, breathable, and durable backrest;
Five tilt positions for the seat assembly;
Motorized magnetic resistance system with 16 settings available;
25 forward-back adjustment positions for the seat assembly;
Very smooth, almost silent belt drive;
The large LCD screen with backlight;
12 preset programs, three heart rate programs, 1-watt program, and one manual program;
Countdown settings for time, distance, calories, and heart rate;
Cons
No sound system;
No step-thru design;
No online connectivity.
No cooling fan;
Does the 3G cardio elite recumbent bike plug into the wall? Because the display turns off when stop pedaling.
Yes, this bike plugs in from the back of the bike, so it will not power off when you stop pedaling or if you drive too slow.
Should this 3g cardio elite RB recumbent bike be plugged in after being used for the day?
To adjust the resistance, the bike needs to be connected to a power circuit, but if you're not using it, there's nothing wrong with turning it off.
Do this 3g cardio elite recumbent bike seat adjustable?
Yes, the seat and backrest are very adjustable; also, seat cushions are soft.


Also, Read Relevant Best Product Reviews by BestCartReviews
Conclusion
The 3G Cardio Elite RB Recumbent Bike is quite an excellent quality recumbent bike that is best for both light commercial use and residential use. This model can easily lift the highest 350 lbs weight capacity of the user.
The frames are designed in such a way to add stability, whereas the pedals consist of toe straps. Plus, for exceptional comfort, the oversized seat adds value to comfort, and the seat is adjustable up/down and forward/back.
The great thing is to monitor your heart rate, and you also get a Grip heart sensor in this Recumbent Bike. So overall, the 3G Cardio Elite has excellent consumer ratings.
This bike is also very sturdy and quite durable. The 3G Cardio Recumbent Bike Reviews clear that it is the Top Pick exercise bike that every fitness lover should have.