TheraGun G3 vs G3Pro Review 2023 – TheraGun Massagers are popular among the customers due to the best-in-class percussive therapy and massage. And if you have arrived here, then possibly you are confused between TheraGun G3 and G3 Pro. Most of the buyers often have the same confusion while buying a reliable massager for them.
Our review team has compared TheraGun G3 and G3 Pro so that you can purchase the best device according to your needs. In this article, you will get a thorough comparison between G3 and G3 Pro. Then you can easily make your buying decision based on this comparison.
TheraGun G3 vs G3Pro 2023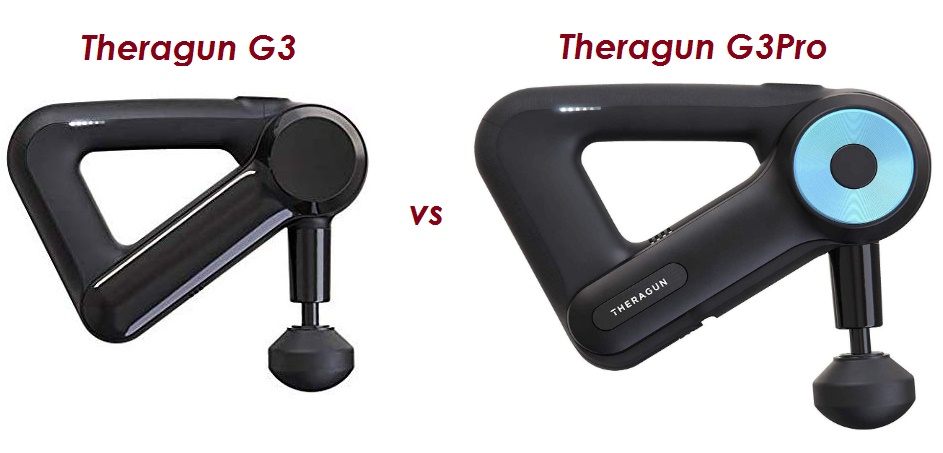 Bestseller No. 1
TheraGun G3 vs G3 Pro Review and Comparison
We have compared these two massagers based on certain factors that will impact the performance and comfort. Here are the factors explained in detail.
Power Rating
TheraGun G3Pro and G3 both devices come with a 2-speed variable setting, and you can choose the speed setting as per your needs. But with TheraGun G3Pro, you get some added benefits like more stall force. The stall force offered by G3Pro is around 60 pounds, whereas TheraGun G3 only has a stall force of 40 pounds. If you need more stall force, then it is better to land with TheraGun G3Pro.
G3Pro is more powerful and delivers more comfort than G3.
Battery Life
The next important factor is battery life. Both of these massagers and therapy devices are powered with batteries. With TheraGun G3, you will get a single battery, which is non-removable. But with TheraGun G3Pro, you get two batteries, and you can replace the battery any time when you need it.
The runtime of TheraGun G3 is around 60-minutes, whereas TheraGun G3Pro has two batteries and each battery can last for up to 75-minutes. In total, you get 150-minutes of runtime with TheraGun G3Pro.
Accessories
TheraGun G3Pro comes with more accessories, and you can use this therapy device for better massage for more parts of your body. With G3Pro, you will get a dampener, a thumb, a cone, a large ball, a standard ball, and a wedge.
On the other hand, with G3, you will get a dampener, a thumb, a cone, and a standard ball. There are more accessories available with TheraGun G3Pro, which makes it a better device for the overall body.
Arm Position
The arm position helps you maneuver the machine with better control over it. When you choose TheraGun G3Pro, then you get an adjustable arm position, which is a lot better than the fixed arm of TheraGun G3 percussive therapy massager.
Ultimately, the choice is up to you whether you need a therapy machine with a fixed arm or adjustable arm.
Noise Level
The noise level generated by TheraGun G3Pro is 75 Decibels, whereas the sound produced by TheraGun G3 is around 65 Decibels. You will get 10 Decibels of more noise with G3Pro. The difference if not too vast, but it will create an impact on your body if you use the massager for too long.
Warranty Period
With TheraGun G3Pro percussive therapy massager, you will get a 2-Year Limited Warranty. And with TheraGun G3, you will get a 1-Year Limited Warranty. The choice is up to you, whether you need a machine with an extended warranty or not.
Price
The price difference between these two therapy machines is considerable. You have to spend less on TheraGun G3. TheraGun G3Pro comes at more price, but it has some additional accessories and features that are enough to justify the price.
TheraGun G3Pro is a popular percussive therapy device that is very handy and easy to use. This massage has muscle stimulation technology and can help you in relieving stress and pain. Being a battery-powered machine requires no wires and cords, so you can use it with ease.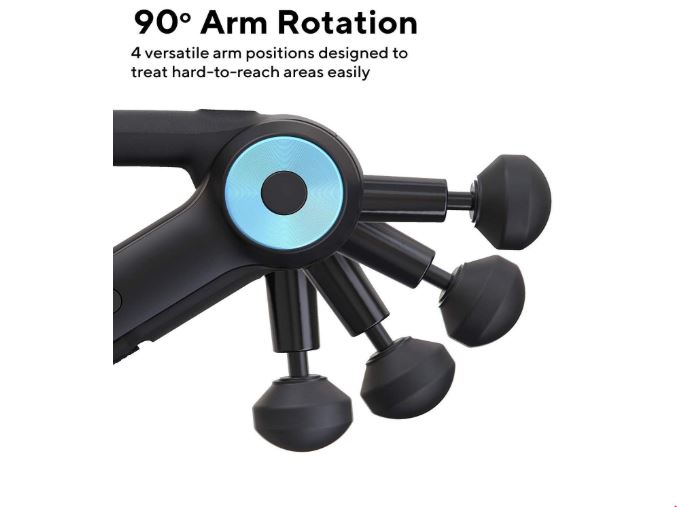 Bestseller No. 1
Adjustable Arm
The adjustable arm feature of G3Pro makes it a friendly machine to use all over the body. From legs to shoulders and knees, you can use this machine for all body parts by adjusting the arm.
Swappable Batteries
Now there is no need to wait to get a massage as you get two batteries with TheraGun G3Pro. You can use one battery while putting another one on charge. Each battery can deliver a runtime of approximately 75-minutes.
Excellent Stall Force
The stall force delivered by TheaGun G3Pro is around 60 lbs. This force is enough to help you with better comfort and quick recovery. With the variable speed button, you can adjust the speed of the machine.
Battery Indicators
There are six LED indicators available on the massager, and you can quickly check the amount of charge left in the battery. Also, it is a lot easier to check whether the machine is running out of charge.
Theragun G3PRO Review
Pros
Easy to use
Ergonomic handle
Deep tissue massage technology
Scientifically tested
Interchangeable batteries
Cons
Verdict
TheraGun G3Pro percussive therapy massager is ideal for you if you need a therapy machine for the whole body. It has an adjustable arm that makes taking therapy even easier. You will get six attachments with this machine for better results.
Bestseller No. 1
TheraGun G3 percussive therapy massager is another popular massaging device that is available in two different colors. The ergonomic handle makes it better to hold for a long time without feeling any strain and pain in your hand. Moreover, it has a quiet motor that runs efficiently with the battery.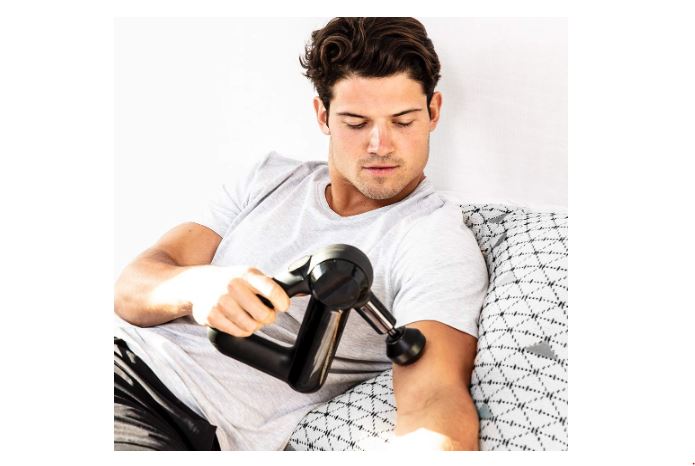 Excellent Construction
The body of the massager is made using high-quality materials. Also, it features a sleek handle that has a soft grip and is comfortable to hold. You will feel less shakiness in your hand while using this therapy device.
Decent Battery Life
The non-removable battery of TheraGun G3 lasts for up to 60-minutes after a complete charge. You have to charge it again as there are no additional batteries offered by the manufacturer.
Variable Speed
You can choose between two-speed settings to get the best comfortable massage. There is a button available on the handle that makes switching between the speeds easier.
4 Pro Attachments
You will receive four pro attachments with TheraGun G3. These attachments will help you in using the machine for different body parts.
TheraGun G3 Review
Pros
Quieter
Durable
Easy to use
Lightweight
Cons
Non-adjustable arm
Limited battery life
Verdict
If you don't want to spend more, then you should get TheraGun G3. This device is easy to use and comes with the necessary attachments.
Theragun G3 vs G3Pro FAQs
How many times a Day Can I use the TheraGun G3/G3Pro?
You can use TheraGun G3/G3 Pro for up to 2-3 times a day based on your requirements. However, TheraGun recommends you to use the massager for 15-minutes a day.
Can this TheraGun Percussive Therapy Massager be used while Plugged-in?
Yes, you can use the device while charging. But we recommend you to use it after charging, as the charging wire can restrict the movement. With TheraGun G3 Pro, you get two batteries so you can charge one at a time while using the percussive therapy massager with other batteries.
What is the Difference Between the G3 vs. G3Pro?
Here is a comparison table that will help you in finding the significant differences between TheraGun G3 and G3Pro.
| | | |
| --- | --- | --- |
| Features | TheraGun G3Pro | TheraGun G3 |
| Stall Force  | 60 lbs | 46 lbs |
| Battery Life  | 150 minutes (combined of two batteries) | 60 minutes (non-removable battery) |
| Pro Attachments | 6 | 4 |
| Weight | 3.10 lbs | 2.70 lbs |
| Noise  | 75 Decibels | 65 Decibels |
| Adjustable Arm | YES | NO |
| Warranty | 2-Year Limited Warranty | 1-Year Limited Warranty |
TheraGun G3 or G3
Pro
: What Should You Buy?
When we compare G3Pro and G3 in terms of features and battery life, then TheraGun G3Pro is a clear winner. This device has more attachments available and has an adjustable arm. On the other hand, in terms of price TheraGun G3 is a better option.
The choice is ultimately up to you. Both of these percussive therapy devices have promising results, and you can use them comfortably for a quick and relaxing massage therapy.